This page contains official CONvergence policies on a variety of topics. If you have any questions about anything on this page, please contact CONvergence.
---
CONvergence Member Conduct Policies
CONvergence is dedicated to providing a safe and inviting convention experience for everyone. These policies support the goal of ensuring that the behavior of any individual or group does not harm other attendees or detract from the Core Values of CONvergence outlined below. Member conduct policies apply to badged attendees, volunteers, members of the ConCom, Invited Participants, Guests of Honor, dealers, vendors and all other individuals that have gone through official channels in order to participate in convention activities.
CONvergence reserves the right, at its sole discretion, to take such actions as it feels appropriate where any individual or group is found to have breached convention policies. Although we consider our members to be rational and responsible people, we recognize that issues related to the policies may still arise. We will deal with any issues as promptly, efficiently, and fairly as possible.
CONvergence reserves the right to revoke membership and to eject anyone at any time from the convention without a refund.
Core Values of CONvergence:
We believe in treating ourselves, each other, and our diverse community with respect.
We believe in taking risks, learning from our experiences, and taking responsibility.
We believe in listening with an open mind and with compassion.
We believe in providing a culture of openness, inclusivity, and fun.
Jump to…
---
City, County, State & Federal Laws
Please remember: whatever applies outside of the convention still applies both inside the hotel and in all convention spaces.
---
Prohibited Representation
Hate Groups
Any representation or iconography of any hate group (included but not limited to: Nazis, the Klu Klux Klan, Westboro Baptist Church or as listed on the Southern Poverty Law Center website as a current or active hate group) is expressly prohibited.
---
Harassment
Discrimination or prejudiced behavior is not tolerated by CONvergence. Harassment of any kind will not be tolerated.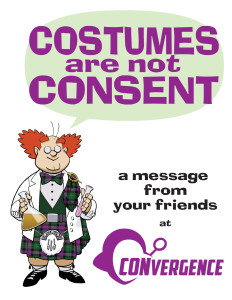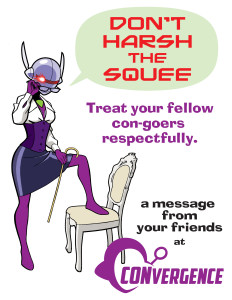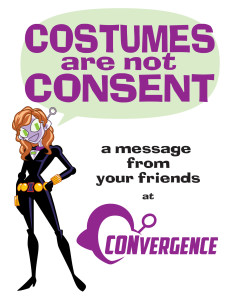 Harassment includes, but is not limited to:
Physical assault and/or battery
Offensive verbal comments
Inappropriate physical contact
Unwelcome physical attention
Intimidation
Stalking
Non-consensual photography or recording
Sustained disruption of panels, signings, or other events
Particularly in relation to identity attributes, including but not limited to:
Race
Color
National Origin
Disability
Gender
Gender Identity
Gender Presentation
Sexual Orientation
Religion
Age
Body Size
Appearance
Dealing with Harassment
Anyone can report harassment.
If you feel that you are being harassed or subjected to prejudiced or unwelcome behavior, if you are aware of others being harassed or subjected to prejudiced or unwelcome behavior, or if you notice someone behaving inappropriately (such as violating hotel or convention policies), we respectfully suggest the following:
If you feel comfortable doing so, point out the inappropriate behavior to the person(s) involved. Often this will solve the problem immediately.
If you do not feel comfortable talking with the person(s) involved or if talking to them does not resolve the issue, please report the situation immediately to CONvergence Operations. If possible, we ask that you try to provide a name, badge name, badge number and/or physical description of the person(s) involved to assist with subsequent investigation and follow up.
Do not feel that it is necessary to craft a complete narrative in order to be heard. It is understood that details of stressful situations can become murky and our procedures take this into account. Report situations to the best of your ability and feel free to provide supplemental reports if needed.
If you are in a situation that makes you feel unsafe, please seek assistance from CONvergence staff immediately. Find a Wandering Host, leave the situation and come to a Safe Space or The Bridge, find anyone on a radio, or text Operations at 651.800.1677 (651 800 1 OPS) and we will come to you.
If someone tells you "no" or asks to be left alone, your interaction with them is over. Do not follow or attempt to disrupt their convention experience in any way. If you continue, against their wishes, to attempt to have contact with people who have said no or have asked that you leave them alone, you may be removed from the premises. If you wish to offer an apology to someone who asked that you not interact with them, please come to The Bridge and CONvergence Operations can assist in relaying your message.
Conflicts between Members
CONvergence is not responsible for solving any interpersonal problems that may arise between individual members outside of the convention. In general, we will take no preemptive action to prevent a person from attending the convention unless that person has either made a specific and credible threat toward the convention itself, or in light of relevant legal reasons. However, if you are concerned about an individual, we encourage you to contact CONvergence Operations. Although we are unlikely to ban or remove individuals from the convention for actions taken elsewhere, awareness of potential problems assists us in providing a safe convention experience for all members.
---
Minors
Fans of all ages are welcome at CONvergence. However, CONvergence does not provide childcare, and not all events at CONvergence are appropriate for all audiences. Young fans can experience the convention and explore as their curiosity takes them but, ultimately, parents, guardians, or designated adults are responsible for their child's experience at CONvergence. A designated adult is defined as someone that is not the legal guardian or parent of a minor, but is over the age of eighteen, a registered convention member and identified in the minor's registration record as an adult responsible for them at the convention.
It is highly recommended that children under the age of 12 be accompanied by a parent, guardian or designated adult as they explore the events, activities, and experience of CONvergence.
REGISTRATION
Minors who will be under the age of 16 on the Thursday of the convention are required to provide contact information for a parent, legal guardian, or designated adult when registering and must have a parent, legal guardian or designated guardian with a valid membership provide legal identification at the time the minor picks up their membership badge.
Minors who will be age 16-17 on the Thursday of the convention must provide contact information for a parent, legal guardian, or designated adult when registering. Minors 16-17 years of age may collect their membership badges using their own form of authorized identification.
CURFEW
Bloomington city curfew does not apply within convention spaces. It does, however, apply outside the hotels. The juvenile curfew in the city of Bloomington is:
Ages < 12 9pm Sun-Thurs, 10pm Fri & Sat
Ages 12-14 10pm Sun-Thurs, 11pm Fri & Sat
Ages 15-17 11pm Sun-Thurs, Midnight Fri & Sat
We recommend that members under the age of 13 avoid CONvergence convention spaces after 11:00pm and that teen members generally return to nonconvention spaces by 1:00am
---
Membership Badges
Your convention membership badge is necessary for participation in the convention. It allows you access to the convention and indicates you are a member in good standing. However, CONvergence reserves the right to revoke the membership and hold the badge of any member for any reason, including but not limited to violating the CONvergence Member Conduct Policies or behaving in such a manner as is deemed unsafe or unacceptable.
Attempts to enter badged convention space while failing to purchase and display a valid membership badge will result in being escorted off site.
---
Fraudulent Badge Use
The use of ANY CONvergence Badge not issued to you, or the possession with the intent to use of a CONvergence Badge not issued to you, is prohibited and will result in your membership being revoked.
---
Financial Transactions
Anyone who owes an outstanding balance to CONvergence (outstanding balance on membership payment, Art Show purchase, or Dealer's Room table rental, for example), must settle that balance before being permitted to acquire their membership badge.
---
Alcohol
The legal drinking age in the state of Minnesota is 21. No one under the legal drinking age should be offered or provided with alcohol. IDs should be verified before anything is shared.
Tampering with food or drinks consumed by others will not be tolerated. Anyone found to have tampered with items consumed by others will be expelled from the convention and may face criminal charges.
Intoxication, to the point of interfering with other members or becoming a hazard to yourself, will provoke responses from First Advisors and CONvergence Operations and may result in any of the sanctions discussed above.
If you feel unsafe, regardless of your level of alcohol consumption, please seek assistance. The safety of members is a primary concern of CONvergence. This applies even if you are not of legal drinking age.
---
Smoking
The DoubleTree by Hilton Bloomington is a non-smoking establishment, per state law. Smoking is permitted only outside of the hotel at a distance of 25 feet from any entrance, preferably in the designated Smoker's Paradise area. Smoking areas will be clearly delineated and separate canopied areas may be provided as weather demands and facilities permit (See Smoker's Paradise). The ConSuite, cabanas, and shuttle pickup areas are NOT smoking areas. Smoking on the patios and balconies of the rooms is not allowed.
Additionally, the DoubleTree by Hilton Bloomington does not allow use of electronic cigarettes within the building. Use of e-cigarettes is restricted in the same manner as traditional cigarettes.
---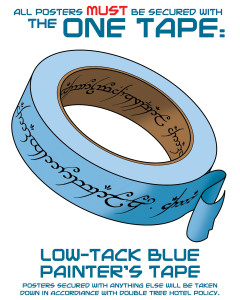 Tape
You may post non-adhesive signs with low-tack tape. The DoubleTree by Hilton Bloomington specifies and requires use of Low-Tack Blue Painter's Tape so that surfaces that will not be damaged by tape removal. There are no specific brand or model requirements. Any low tack blue tape is allowable. If you do not have acceptable blue tape, come to The Bridge. We have plenty and are happy to share.
Neither the convention hotel nor CONvergence will tolerate the application of stickers or high-tack tape to hotel surfaces. Removal of these adhesive substances is damaging to the hotel, and is therefore considered to be unacceptable. Incidents of this kind will be treated as vandalism. Don't break the Hotel.
DoubleTree Poster Hanging Guidelines
These guidelines apply to all signs other than those sponsored by official CONvergence departments that have been developed in coordination with CONvergence publications and are hung with the approval of the CONvergence Hotel department.
The official start time for member sponsored posters to go up is 6:00PM Wednesday. Official Posters from CONvergence Departments may be hung earlier.
Posters are not permitted on any part of the escalators, particularly the metal strip down the center.
Posters may not be affixed to room doors or door frames with tape. They may be hung using magnets.
No posters in the elevators, or on the elevator doors. This is from the City of Bloomington, not only from The Hotel. Posters are permitted on the walls around the elevators.
No posters on the walls of the first floor lobby or the first floor of the North (short) tower, except around the elevators in the North (Short) Tower.
For all other locations, all signs must be hung using low tack blue painter's tape. Specific brand and model requirements are no longer in effect.
Posters hung in prohibited locations or with unapproved tape will be gently removed by Wandering Hosts and brought to the The Bridge.
These rules are subject to change by the Hotel at any time. Please contact CONvergence Operations for most current guidelines.
---
Props
We at CONvergence believe that the convention as a whole benefits from the amazing costumes and props brought, worn, and displayed by our members. In order for CONvergence to remain an enjoyable experience, everyone must agree to a social contract. This contract is simple: If a member agrees to be safe and considerate with their props, CONvergence agrees to let that member carry their props in convention spaces. To ensure that prop-carrying members abide by our social contract, CONvergence Operations provides The Talk and Peace Bonds props.
The Talk
If you have a prop that meets any of the following criteria, you must come to the bridge to receive The Talk and have your prop peace bonded before carrying it in convention spaces:
Large or unwieldy
Is capable of emitting a laser beam or any sort of projectile
Resembles a weapon from any universe
Uses wheels for other than accessibility purposes
Peace bonding may also be required in other circumstances, at the discretion of CONvergence Operations. When CONvergence Operations gives The Talk, they outline what is expected of you and your specific props, and provide an opportunity to ask any questions you may have. You will receive a badge ribbon reading "I've Had The Talk." This ribbon must be worn visibly when carrying your props to indicate that you agree to our social contract.
Peace Bonding
Peace bonding is the process of marking a prop so that it may be known to one and all that you agree to be responsible with it. At CONvergence, peace bonding is more about marking that a prop has been inspected and found to be in compliance with CONvergence Operations' safety procedures than an attempt to render the prop inert. Props must be peace bonded on The Bridge with materials provided by CONvergence Operations. Peace bonding does not carry over from year to year.
In some cases, special care must be taken when a prop is peace bonded:
Metal bladed or pointed weapons must be secured into a sheath.
Props normally capable of emitting projectiles or laser beams must be rendered unable to do so.
Other instances, as determined by CONvergence Operations.
Prohibited Items
The following are not permitted in convention spaces:
Firearms, disabled or otherwise.
A MN Permit to Carry is not an exception
Explosives/ Pyrotechnics
Tasers/ Stun Guns
Pepper Spray/ Chemical Irritants
Any item deemed unsafe by CONvergence Operations.
We allow and encourage the following props:
Knives/ Swords/ Daggers
Bows
Bats/ Clubs/ Mallets/ Lightsabers
Toy / Replica/ Model Firearms
Many other nifty props! This list is not comprehensive.
Mobility Aids
CONvergence's props policy generally does not apply to mobility aids used for accessibility such as canes, crutches, walkers, and wheelchairs. Unless on the prohibited items list, such devices are explicitly allowed throughout convention spaces and require neither peace bonding nor The Talk. Members are welcome to bring their mobility aids to The Bridge to be inspected and receive The Talk and its associated badge ribbon if they would like to do so.
Exception: Sword Canes must be peace bonded as if they were props.
Tools
This policy is not intended to cover tools such as pocket knives, multi-tools, glue guns, nail clippers, etc. Unless on the prohibited items list, such items are allowed, provided they are being used as tools. If such items are being carried as props, they fall under the props policy, and must be peace bonded accordingly.
Wheels
It is not permitted to ride any manner of wheeled recreational transport device such as a bicycle, unicycle, roller skates or blades, skateboard, hoverboard, or motorized mini-vehicle in convention spaces. Strollers and wheeled mobility devices providing accessibility are permitted.
Flying Things
Deployment of any flying object, be it tethered or free flying, powered or unpowered, is not permitted in convention spaces unless advanced authorization is obtained from CONvergence Operations.
Programming Exceptions to Props Policies
Peace bonding may be removed, and props drawn, wielded, or brandished when a member is participating in a CONvergence scheduled event at the discretion of the event organizer (e.g. Masquerade, a stage combat demonstration, etc.). Props used in such a manner must be taken to The Bridge to be Re-Peace Bound before being again permitted in convention spaces. Programming is never an exception to the Prohibited Items list.
---
Costumes/Clothing
Any costume that gives the appearance of being a member of any non fictional military or law enforcement organization of the 20th century or later will not be permitted. Exception: Genuine military personnel may wear their uniforms.
Costumes and clothing worn at the convention are still subject to nudity and public decency laws of the city of Bloomington, MN. Bloomington, MN City Code prohibits public nudity, defined as "the showing of the human male or female genitals or pubic area with less than a fully opaque covering; the showing of the female breast with less than a fully opaque covering of any portion thereof below a point immediately above the top of the areola; or the depiction or showing of the covered male genitals in a discernibly turgid state."
---
Planned "Spontaneous" Group Activities (Flash Mobs, Performance Art etc.)
On occasion, parades, moving performances, LARP-style games or other mobile events may occur at CONvergence. These events are welcome in the Garden Court, Smoker's Paradise or the Central Corridor of the Convention. We recommend that you provide advanced notification of your plans to Operations and Programming. When engaging in such activities without advanced notice to and approval from Operations and Programming, please avoid the North Tower, Programming Spaces, individual parties (unless invited), the hotel bar and restaurant, and spaces such as The Bridge and ConSuite.
---
Animals
Pets are not permitted in convention space. Service Animals, as defined under the ADA, are welcome in all areas of CONvergence.
Distracting a service animal without its owner's permission is a safety hazard and denies another member the benefit of their accessibility aid. Petting, touching, or intentionally distracting a service animal without its owner's permission is not allowed under any circumstances.
---
Litter
Please pick up after yourself. There are trash containers around the hotel. It makes a big difference if we try to keep things clean. There are no house elves working for CONvergence.
---
Volunteering
Volunteering for Convergence Events can be a lot of fun and we value each and every one of our volunteers. But, as with everything else, there is always the administrivia that needs to be documented. To that end, please understand that your volunteering for Convergence Events is at-will and no one has the right to force or guilt you into it. We do sincerely encourage you to, and hope that you will, be proud of the time and effort you put in on behalf of Convergence Events as it is an extremely valuable and highly appreciated gift you provide to our community.
By that same token, when volunteering for Convergence Events, you are agreeing to release and hold harmless Convergence Events from any and all liability, claims, demands, injuries, illness, death, or property damage resulting from your volunteering activities. Convergence Events does not maintain health, medical, or disability insurance coverage for any volunteer or contractor and each volunteer and contractor is expected and encouraged to obtain their own medical and/or health insurance coverage.
---
Guests & Invited Participants
While CONvergence financially and logistically supports Guests of Honor coming to our convention, CONvergence does not pay appearance fees for Guests of Honor or Invited Participants. The reasons for this are:
As a nonprofit, we focus on using our funds to support our infrastructure and community.
Our goal is to invite participants and guests who are excited to engage the convention community and spend time with our members, rather than only showing up for their scheduled events.
Guests of Honor
Guests of Honor are professionals and qualified experts in many different fields who are invited as the convention's honored guests in a given year. Guests of Honor will be asked to participate in a minimum of six panels during the course of the convention. Guests of Honor are welcome and encouraged to participate in more than six panels should they wish to. Guests of Honor are also welcome and encouraged to participate in other events, such as attending any of our Mainstage shows, enjoying our evening Parties, and spending time with our members in a more relaxed setting.
CONvergence will cover the following expenses for each Guest of Honor and that person's optional personal guest:
Convention membership badge for that year and all subsequent years
All travel expenses to and from the convention
Their entire hotel stay
All dining (minus alcohol)
A convention staff member will be assigned for each Guest of Honor to act as a personal assistant, help navigate them through our process, and provide support during the convention itself. Guests of Honor are welcome to schedule signing times during the convention to sell merchandise and/or autographs. They may also offer items for sale at the convention's merchandise booth, and artist Guests of Honor will be guaranteed space to display and sell art in the CONvergence Art Show.
Guests of Honor will receive a personalized bio page on the CONvergence website and a feature in the CONvergence programming guide for the year of their CONvergence appearance. Guests of Honor are also welcome to publish PDF press releases regarding their current work and their CONvergence appearance on CONvergence's website.
Invited Participants
Industry professionals or other qualified experts who present their credentials to CONvergence's Invited Participants department may be extended an invitation to be a CONvergence Invited Participant. All Invited Participants are required to participate in a minimum of three panels or events during the course of the convention.
Some participants support the convention by purchasing memberships. If an Invited Participant is not in a position to purchase a membership, CONvergence will cover the following expense:
Convention membership badge for that year
Invited Participants will be listed under "Also Appearing" on the CONvergence website and will have their name listed in the CONvergence programming guide for the year of their CONvergence appearance. Invited Participants are also welcome to publish PDF press releases regarding their current work and their CONvergence appearance on CONvergence's website.
---

Parties
CONvergence provides a fun, safe environment and encourages creative parties that facilitate inclusive entertainment for registered members of the convention. The following is subject to change without notice, so be sure to refer back to these policies before the convention. Any fees listed are subject to change at the hotel's discretion.
The Basics
Parties must comply with all CONvergence policies, including the CONvergence Weapons Policy and the CONvergence Harassment Policy.
Although bound by CONvergence policies, parties at CONvergence are funded, organized, and operated independently from Convergence Events, CONvergence volunteers, and the CONvergence Convention Committee (ConCom).
CONvergence only accepts gratis party applications. CONvergence will not negotiate, award, reimburse, or otherwise enter a compensation contract with party hosts.
Each organization is limited to one CONvergence party room. However, two separate but cooperative organizations may request adjacent and connected rooms.
All party hosts and patrons must be registered CONvergence members.
Parties may have multiple hosts. At least one host must be at least 18 years of age, physically present, sober, and responsible during the party's stated hours of operation, and party hotel rooms may only be reserved by adults 18 years of age or older.
Parties should be open a minimum of 4 hours each day (except Sunday) and remain open during their stated hours. If a party must close during its stated hours due to an emergency, notify the CONvergence Party Department by contacting The Bridge.
Parties are expected to welcome any CONvergence member wearing a CONvergence badge, unless enforcing specific age restrictions.
Parties choosing to enforce any age restrictions must do so by checking government-issued identification.
With the exception of convention registrations, commerce of any kind is strictly prohibited at CONvergence parties. This includes the sale of food, beverages, alcohol, merchandise, products, cover charges, entertainment, and services.
Fundraising for a worthy cause during a party may not include gifts in exchange for donations.
Voluntary tips may be collected from party patrons. Party hosts may not suggest minimum tip amounts. Party guests who do not tip may not be denied access or service.
Parties may be promoted via the CONvergence Programming Guide and website. Party descriptions should be 50 words or less, and submitted no later than April 15 of the convention year. Party descriptions are subject to editing and approval of CONvergence.
Volunteer Hours for each party room to distribute are capped at 150 hours total. Each person volunteering may receive a maximum of 15 volunteer hours from party rooms. Volunteer hours must be signed off by a CONvergence Parties Department co-head or designate. CONvergence Parties Department heads may give volunteer hours that are separate from hours given to volunteers by party rooms.
Laws and Ordinances
Party rooms are not private residences and party activities must comply with all federal, state, and local laws. Any activity that is illegal outside of the hotel is also illegal inside the hotel.
Parties that offer alcohol must comply with Minnesota Statute 340A – Liquor Laws.
Over-serving alcohol is forbidden. Parties may not serve alcohol to guests who show signs of intoxication.
Party hosts are held accountable for the behavior of their guests. CONvergence is not responsible for any alcohol-related damage or injury.
Parties must comply with Minnesota Statute 617.23 Public Decency Laws and Bloomington, MN Ordinances Chapter 12, Article II, Division D – Public Indecency, and Division E – Improper Display of Sexually-Oriented Materials.
The Hotel
Party rooms are subject to inspection by the fire marshal.
Party rooms are non-smoking. This includes E-cigarettes and other vaporizing devices. Anyone wishing to smoke or vape will be welcomed in Smokers Paradise.
Parties that choose to serve alcohol are not charged a corkage fee by the Hotel.
Party food may not be heated by flames. Heating elements must be closely attended at all times.
Party signage and decorations:

Must not be posted in the hotel before 6:00pm on the Wednesday before the convention.
May not use free-standing easels or floor displays outside of their respective rooms, balconies, or porches.
May not be attached to wood railings or surfaces with any kind of adhesives, including blue tape.
May only be affixed on doors and door frames with magnets. No adhesives are allowed on doors, including blue tape.
Are not allowed inside elevators or on elevator doors. (Signage on the walls next to elevators is allowed.)
Are not allowed in the hotel first floor lobby, South Tower elevator area, South Tower escalator, or adjacent hallway to the North Tower.
Are allowed on the walls of the North Tower first floor Plaza and surrounding elevator area.
May not include candles or other open flames, fog machines, or dry ice.
May not attach to hotel walls with damaging adhesives, and may not use puncturing fasteners such as staples, nails, or screws. Blue painter's tape is the only acceptable adhesive. Rubber-ended horizontal tension rods, vertical load bars, rubber-ended clamps, and other gentle mechanical devices may be used sparingly, within reason.
May not obstruct thermostats, smoke detectors, fire sprinklers, or doorways.
May not obstruct first floor cabana porch-facing doorways or stairs. First floor porches must be accessible to guests.
May not obstruct second floor cabana balconies. Second floor balconies must be accessible to guests.
May not include elevated platforms such as dancing risers. All party foot traffic must be restricted to the hotel floor.
Must be secured to the wall and may not balance or rest on door frames.

Party decorations in hallways are discouraged as they impede traffic and are prone to damage. Doorway facades may protrude no more than 6" from the walls. Signage that spans the hallways must provide a minimum 8 foot clearance above the floor. Signage that falls below minimum clearance, falls within traffic pathways or becomes otherwise obtrusive may be taken down by the CONvergence Parties Department. If this happens, The Parties Department will make its best effort to return the signage intact.
Party rooms, first floor porches, and second floor balconies must be wheelchair accessible.
Both doorways must be fully accessible in first floor cabanas. Hallway-facing doors may use a doorbell. Doorbells are free and may be requested through the CONvergence Parties Department.
Parties must be confined to their respective rooms. Party decorations and equipment such as lighting systems and sound systems must be directed inward. No party equipment may disturb, harm, blind, or impede members in the Garden Court or passing by the party.
Party hosts may restrict access to their cabana bathroom and adjacent closets as "staff only" areas if desired.
Cabana rooms come furnished with beds that may be removed for a $250 fee. Bed removal must be requested before June 15 of the convention year. Bed headboards are attached to the walls and will not be removed. Bed frames and linens will be stored in their respective party room closets. CONvergence will cover $200 of the bed removal fee; party hosts will be responsible for the remaining $50+. This is only for bed removal and does not include removal of any other items or damage fees incurred. This is NOT a reimbursement; it will be deducted from the hotel bill.
Moving or otherwise re-arranging beds yourself at any time will incur a $250 damage fee.
Some cabana rooms come furnished with a club chair, ottoman, lamp, patio chairs, or other furniture which may not be removed from the room. This furniture may be rearranged within the room, but must be returned to its original position prior to checkout. Failure to return these items to their original positions will incur a $250 damage fee.
Cabana rooms come furnished with a television and accompanying furniture (entertainment center, dresser) that is both fragile and expensive. This may not be moved, removed, or relocated. No exceptions. Damage fee for this item is $1000. The side tables by the beds also may not be moved.
A carpet cleaning fee may be applied to rooms with carpet damage or staining at checkout.
Party hosts are responsible for any hotel-assessed damages to their reserved party room or sleeping room. Please report existing damage to the hotel as soon as possible to avoid inaccurate charges.
Parties may connect video game systems or video entertainment systems to the supplied cabana room television.

Party room reservations are secured and billed in the same manner as

sleeping room reservations

.

Adult-oriented paraphernalia must be distributed inside the hotel room and not on the patio portion of the first floor or outside the rooms of the second floor. For the purposes of this policy, condoms and educational pamphlets are not considered "adult paraphernalia" and may be distributed on the patio portion of first floor cabanas.
Alcohol may only be served inside the Cabana Rooms. First floor parties may not serve alcohol on the patio. Second floor parties may not serve in the hallways or within 5 feet of the hallway door.
Party cancellations must be submitted to both the CONvergence Parties Department and the CONVergence Hotel Allocations Department. Failure to cancel the party in this method may result in accidental charges by the hotel.
2017 Specific Policies
Party Hosts have the option of reserving one designated sleeping room. Cancelled parties forfeit their sleeping room.
CONvergence Parties Department signage must be displayed outside each room. Decorations may not cover all or part of the CONvergence Parties Department signage. Changes to the CONvergence Parties Department signage must be made via a request to the CONvergence Parties Department at least 48 hours before the convention begins. CONvergence Parties Department signs displaying incorrect information from what was submitted due to an error will be updated when requested prior to the first night the party room opens. Altering or defacing official CONvergence Parties Department signage is prohibited.
---
Elevators
During CONvergence, the public elevators are running nearly constantly for close to eighteen hours a day, and it is in our best interest to keep them from breaking. Because of this, we have instituted a policy where there are only eight people allowed per elevator car (seven plus an elevator operator.) Large pieces of luggage and/or props may also be counted as a person because the limitation is about weight, not warm bodies. Only five people (four plus the elevator operator) will be allowed to board the elevator on the 22nd floor.
To keep the lines flowing smoothly, elevator cars going up are boarded on the first floor, and elevators coming down are emptied on the second floor. Anyone needing to ride the elevator a nonstandard direction because of disability may do so at any time. Anyone getting on an elevator going up on a floor other than 1 intending to ride the elevator to 22 and then ride it back down to get to the first floor will be required to exit the elevator on the 22nd floor and wait for the next car. This does not apply to persons with disabilities.
Anyone with limited mobility who needs reliable access to elevators in order to move around the hotel should stop by the Accessibility Table (opposite the DoubleTree by Hilton's front desk) when you arrive at the convention.
---
Photography Policy
There is a lot to see at CONvergence and we know you'll want to snap pictures of the awesome cosplays and goings on around you. So to ensure all members have a good time, we've laid out some of the rules and guidelines to keep our event safe and fun. Remember to please ask permission before you take someone's photo—and keep in mind our policy that Cosplay is not Consent.
Only official CONvergence photographers/videographers are allowed to take pictures in CONvergence Convention Committee areas (those restricted to the Convention Committee members) and the following: Art Show, Art Auction, Print Shop, Green Room.
With the exception of below, all pictures must be for personal or general public use such as social media.
The use of photos, videos, or audio tapes made at CONvergence for commercial use or for the solicitation of funds for any commercial or other purpose without the express written permission of Convergence Events, Inc. is strictly prohibited.
Flash photography is not permitted during panels, programming, and mainstage events; please check with Masquerade personnel for scheduled pre-or post-Masquerade photo sessions.
The CONvergence Photo Booth can be used for general personal photography except when an official CONvergence photographer is photographing in the booth. Please do not interfere with an official photographer in the Photo Booth. The Photo Booth is intended for use by all CONvergence members; please be respectful and do not spend extended periods of time in the Photo Booth.
Private Photoshoots
Many people are interested in doing professional private photoshoots at CONvergence. We welcome you to do so under the following provisions:
Pictures taken at CONvergence for professional use are prohibited unless a contract and release is received from any and all subjects.
Contracts and transactions must be negotiated and take place outside of CONvergence entirely.
You may not block off, bar, or otherwise impede any use of the hotels by other patrons. (i.e. You cannot set up a mermaid photoshoot and then prohibit other people from entering the pool during your photoshoot.)
You may not use the CONvergence Photo Booth or other CONvergence organization areas.
Photographers and all subjects MUST each have purchased a CONvergence membership.
---
Press Procedure
CONvergence welcomes the established press and media organizations to visit for the purposes of exposure to the general public. To apply for a press pass, the following is required:
Press must be from an approved media source.
You or your organization must submit a request for a press pass by the Monday before the convention which includes your name, your media organization, purpose of your visit, and requested duration.
You must present your credentials upon picking up your Press pass which will be held in the Operations Department
You will be escorted by a Director throughout your visit to the convention. Most visits are 1 hour.
You must agree and abide by the CONvergence Photography Policy.
We would greatly appreciate you sharing a link to your story, album or raw images for sharing.