CONvergence takes place at the DoubleTree by Hilton Hotel located at:
7800 Normandale Blvd,
Bloomington, MN 55439
---
DoubleTree Function Space
CONvergence utilizes all of the function space on the first two floors of the DoubleTree by Hilton, including cabanas around the Garden Court and Pool area. The 22nd floor (top floor) of the tall tower is also utilized for gaming and some programming. During the convention, the majority of the function space is only available to registered members of CONvergence, and you will need to show your CONvergence badge in order to gain access to it.
Additional Function Space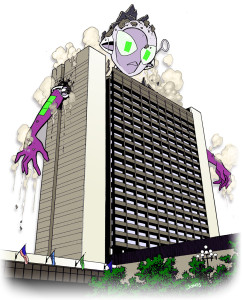 As CONvergence continues to grow, we are expanding our function space to include the Sheraton Bloomington Hotel (Formerly the Sofitel Bloomington), located at:
5601 West 78th Street,
Bloomington, MN 55439
And at the Crowne Plaza Bloomington Hotel, located at:
 5401 Green Valley Drive
Bloomington, MN 55437
Hanging Signage
CONvergence members may hang family-friendly signage advertising parties, panels, performances, events and more around the hotel function space. However, anything affixed to the wall or other surfaces at the DoubleTree by Hilton Hotel MUST be secured with Safe-Release Painter's Tape. This includes signage and decorations. You can find more information about this policy on our Policies page.