CONvergence has existed for over a decade and a half, and has developed its own unique history of terms, traditions, mascot characters and more.
---
Terminology
CONvergence: In naming our convention, we aimed to at once evoke the idea of community and acknowledge the diverse media that comprises the science fiction/fantasy genre. While we wanted to keep with the fandom tradition of making "con" part of our name, we also wanted to stay away from the pattern of "SOMETHING-con", which seemed overly prevalent when the name was being decided on back in 1998. CONvergence in one word tells the world that we are a convention for fans, but also a place where media, genre and people come together and spend a weekend as one community.
Badger: A volunteer stationed at a checkpoint to make sure everyone going through has a CONvergence membership badge and is thus a registered member of the convention.
The Bridge: Like the bridge of a star ship, the Bridge of the convention is the official CONvergence administrative headquarters and central CONvergence Operations center that supports the convention while it is in progress.
ConCom: The Convention Committee, a team of over 200 year-round volunteer leaders and staff who plan and orchestrate everything that makes CONvergence what it is!
CVG: The preferred abbreviation for "CONvergence", used in official CONvergence publications, on CONvergence merchandise and elsewhere.
CVG-TV: A closed-circuit CONvergence television channel running in the DoubleTree by Hilton during the convention. CVG-TV broadcasts CONvergence main stage events, public service announcements and more directly to your hotel room!
HarmCON: The abbreviation for Harmonic CONvergence, CONvergence's more intimate venue for live music and entertainment. HarmCON features a blend of music, comedy, and spoken word performances.
Masquerade: A costume contest held Saturday night of the convention each year. The Masquerade is a very big event at CONvergence.
Nerf Herder: A volunteer who helps with crowd control and line management. Nerf Herders can be identified by their green smocks. If you need accessible seating at an event or other accessibility accommodation while standing in line, please flag down and speak to a Nerf Herder.
Room Parties: Parties held by individuals or groups in their hotel rooms, primarily located around in cabanas around the pool area and on the 4th floor in the DoubleTree by Hilton.
Safe Space: Locations within the convention that are or can be made to be places of heightened physical, intellectual, and/or emotional security.
"The Talk": Submitting your prop for examination and peace bonding at The Bridge. Everyone with a potentially dangerous-looking prop must do this. See the policies page for more information.
Wandering Hosts: CONvergence Operations volunteers who wander the convention to provide assistance to members who may need it, and keep the Bridge abreast of potential safety concerns or emergencies that may arise during the convention. Wandering Hosts can be identified by their purple vests.
Mascots
CONvergence has an entire cast of mascot characters that can be spotted around the convention, and often play key roles in CONvergence programming, as well as a adding a fun, narrative aspect to each year's theme!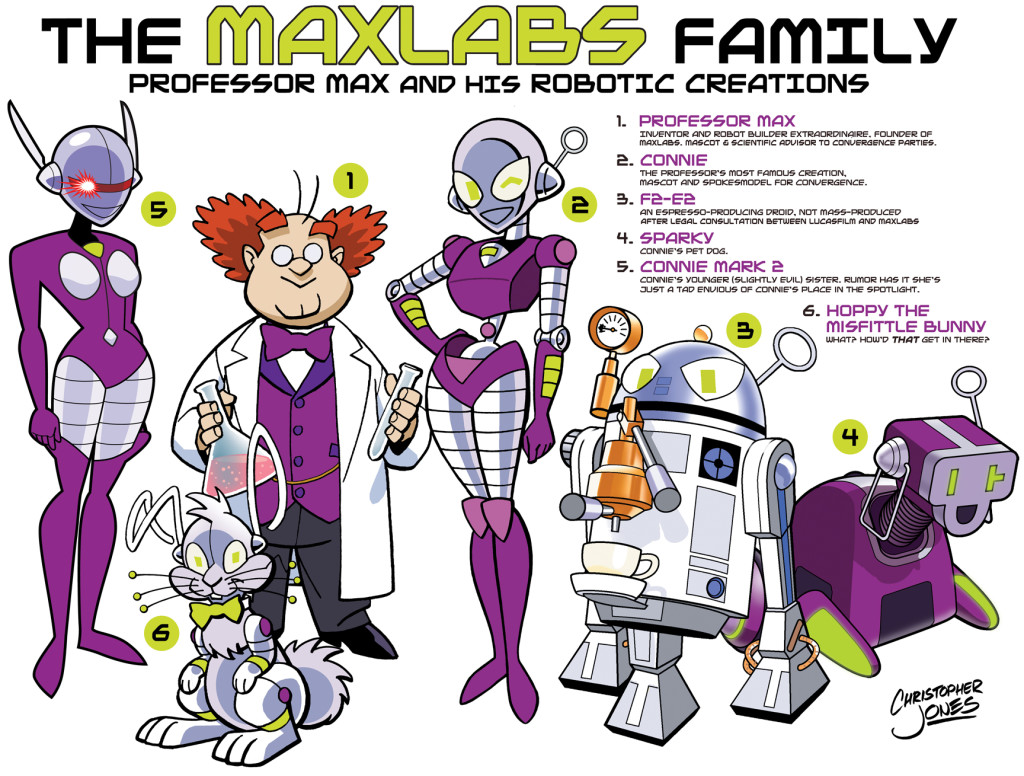 Connie
Connie is a gynoid created by Professor Max Misfittle, having come online July 4, 1998. Since then, Connie has enjoyed the limelight as the official CONvergence robot mascot. In addition to her role as an all-around supporter and morale booster for CONvergence and its volunteer staff, Connie's image can be found everywhere on CONvergence publications, merchandise and decorations. Connie is sometimes seen just as herself but is often spotted engaging in her favorite fan activity, cosplay! Connie believes cosplay is for everyone, and tries to exemplify her conviction that a fan should be able to cosplay any character, regardless of gender, ethnicity, body type, model number or operating system. She is also proud of her role in CONvergence's Costumes are not Consent campaign.
Over the years, reports in the press have had Connie linked romantically to other famous science fiction robots, most notably Gort from The Day the Earth Stood Still, whom Connie herself once described as "The strong, silent type."
Connie's state-of-the-art technology features "retro" stylings that include a rotating Robby the Robot-type antenna and a green collar light that blinks when she speaks (like a Dalek's dome lights – which is about the ONLY thing she has in common with a Dalek!) Her smile is a 2-D graphic etched onto her face-plate, but can occasionally emote thanks to the miracle of Professor Max's patented 2.5-D technology.
Connie is a traditional part of CONvergence Opening and Closing Ceremonies and can be found making live appearances around the convention throughout the con weekend.
Connie Mark 2
Connie Mark 2 is Connie's younger sister and Professor Max's second robotic mascot creation. Mark 2 was created in 1999 after the first year of CONvergence when, in a fit of hubris, Professor Max thought he could improve upon Connie's design. As a result, Connie Mark 2 was sleeker, sexier, and technologically superior to her older sister. These "upgrades" made the Professor's second robotic creation arrogant, wielding an over-developed sense of self-entitlement, or as Connie herself put it, "slightly evil." Professor Max recognized his folly and swore off creating further sentient gynoids, which only served to fuel Mark 2's sense of persecution.
Connie Mark 2's "upgraded" design features twin, swept back antennae and a more humanoid, feminine shape. Her sweeping "cylon" eye allows her to more efficiently scan for signs of dissent or weakness in others. Like Connie, Mark 2 also possesses a green collar light that flashes with her speech (which is only one of MANY traits Mark 2 shares with the Daleks.)
Connie Mark 2 staged a coup at CONvergence 2010, overthrowing Connie and proclaiming herself the new mascot and all-powerful overlord of CONvergence. However, her reign was short-lived and Connie was returned to her rightful role as CONvergence mascot by the convention's end. For Mark 2's misdeeds, she has been punished with indentured servitude in food service and now grudgingly serves CONvergence as benevolent ruler of ConSuite. There are whispers of an enduring separatist movement within the CONverence community, ready to support Connie Mark 2 when she makes a second grab for her throne.
Professor Max
Professor Max Misfittle is the creator of Connie, Connie Mark 2, and numerous other robot characters. However, after Connie Mark 2 revealed herself to be slightly evil, the Professor vowed not to build any more sentient gynoid robots in a futile attempt to recreate the lightning-in-a-bottle success of Connie. Professor Max now devotes his time towards developing new inventions and lending his mixology expertise to CONvergence parties! Professor Max's age is officially unknown, and some have suggested that he may in fact be a Time Lord.
F2-E2 and Tea 3P0
F2-E2 is an espresso-producing droid and Tea 3P0 is a tea-producing droid.  F2-E2 is the mascot for CONvergence's CoF2E2 Free Coffee Shop, while Tea 3P0 is his British, tea-obsessed friend.
F2-E2 was Professor Max's first robotic creation after abandoning his attempts to recreate the success of Connie as a sentient, humanoid robot. F2-E2 was meant to simply be a helpful, coffee-dispensing gadget. His bubbly personality and indecipherable beeps and whistles made F2-E2 popular enough that he became the mascot for CONvergence's Free Coffee Shop.
The origins of Tea-3P0 are a bit of a mystery. Despite not having been constructed by Professor Max, Tea-3P0 is wholly devoted to his station as F2-E2's British, tea-obsessed friend, fluent in over six million forms of tea and tea-based beverages consumed throughout the galaxy. He would be happy to share with you the full history and cultural relevance of any one of them, but we don't recommend asking him. The convention is only four days long.
Rex
Rex is a longtime convention-going inflatable T-Rex dinosaur and the official Mascot of the Cinema Rex Movie Room. In addition to other appearances, Rex has been a regular participant in convention masquerades, and has judged the CONvergence Masquerade several times. Rex is also the driving force behind Cinema Rex's annual Kurt Russell Pizza Party feature, and is rumored to be obsessed with the actor and his films.