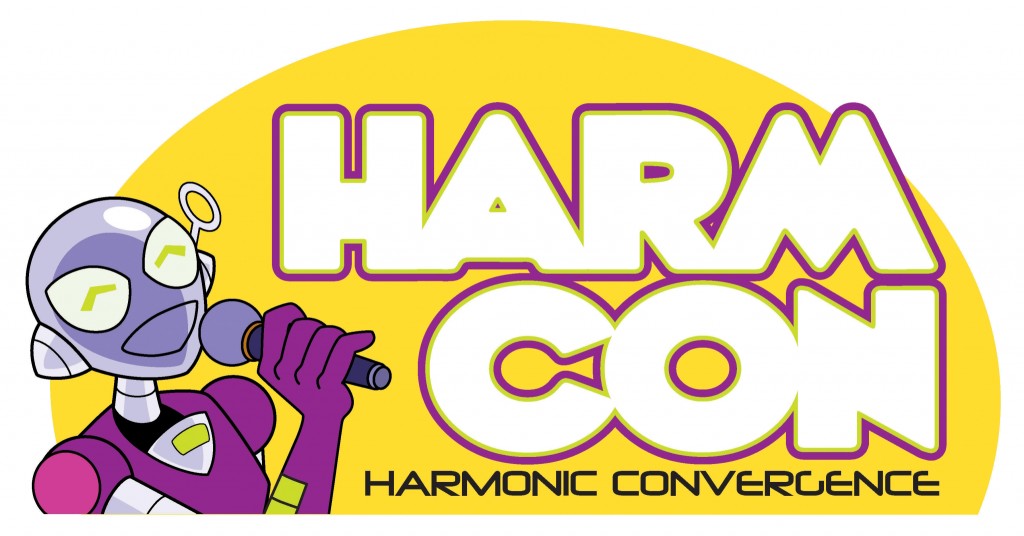 ---
Welcome to Harmonic CONvergence!
Harmonic CONvergence (HarmCON) is CONvergence's dedicated venue for live music and entertainment. HarmCON features a blend of music, comedy, and spoken word performances. In 2017, Harmonic CONvergence will move to a new space located in the Gibson room on the lobby level of the Sheraton Hotel, making it easier to enjoy all our great performances! Walk over or use the free CONvergence 24-hour Shuttle to check it out!
HarmCON Schedule
Thursday
5:30pm – 6:30pm Morgan and Maren: SlytherPuff
Slytherpuff perform original songs based on their favorite fandoms. Their songs range from party music to heartfelt ballads, based on fandom favorites like Harry Potter, Marvel, Star Trek, and more.
7:00pm – 8:00pm The Fandom Menace
Stepping out of the airlock into the void left by the Nick Atoms, The Fandom Menace brings a new twist to classic SF & fantasy themes from Rocky Horror, Buckaroo Banzai, Hitchhiker's Guide, Labyrinth, Flash Gordon, Red Dwarf, John Williams, and more.
8:30pm – 9:30pm Karl Brown
Scatological songs, Atari and toy piano. Karl Brown has been writing comedy songs over the past decade, performing them at MarsCon, FuMPFeST and other venues. Recordings have been heard on the Dr. Demento Show, The FuMP Sideshow, and Mad Music.
10:00pm – 11:00pm SEE MORE PERSPECTIVE
MC, Poet, Producer, and Educator performing Boom Bap Xicanx (Chicano) Futurism. Exploring future wastelands and cityscapes full of watch bots, sci-fi updated chupacabras, and chainsaw-handed, fire-eyed peace droids.
11:30pm – 12:30am Lyritics Presents: Geek Nation
Lyritics (Leer-a-tiks) is a nerd-core hip-hop trio based out of Minneapolis. Opening for Lyritics will be Mr. Rogers & The Make Believe Friends.
Friday
11:00am – Noon Candles Enough
Candles Enough are a female filk and parody duo, eclectic in music and styles, swinging from as filky as filky gets to straight-up pop covers. And then the parodies. They do a lot of parodies, singing in tight harmonies and performing with a single guitar. Check out their YouTube channel!
12:30pm – 1:30pm Tanya Brody
Harper-Singer-Songwriter. With the voice of an angel and the heart of a poet, Tanya Brody makes both traditional and original songs come to life and touch the soul.
2:30pm – 3:30pm TryForce
Three piece nerdy pop culture cover band from the Twin Cities. Through drums, bass, and saxophone, they cover all kinds of video game, movie, TV show, and popular theme songs.
4:00pm – 5:00pm Beth Kinderman & the Player Characters
Filky geeky progressive rock. Beth writes unique and complex original songs about everything from fantasy literature to video games to Star Wars to Battlestar Galactica and beyond. Her band's current project is a concept album inspired by Joseph Campbell's theories of the Hero's Journey.
5:30pm – 6:30pm Ionosphere Casting Shadows
High-tech guitar ambience and dream-like interludes. When does a guitar not sound like a guitar? Todd Madson's super relaxing ambient guitar soundscapes appears once more to provide a soothing alternative to the sometimes frenetic con atmosphere.
7:00pm – 9:00pm The CONvergence Poetry Slam
Vogon poetry. Bilbo's Walking Song. Nevermore. Nerds have words, and the CONvergence Poetry Slam is to celebrate those words and those nerds in an exciting competitive format! Show up, sign up, and if the lottery gods are kind, you (yes, you) may be drawn to read two three-minute poems.
9:00pm – 10:00pm Kristopher Karter
Kristopher Carter performs his new EDM tracks live!
10:00pm – 11:00pm Genius Pi
A masterful music manipulation of epic proportions! Genius Pi, led by Zummy, is a St. Louis based nerdcore band who is always ready to rock your socks while you gawk and squawk! The agenda? Hit every genre of music known to man and beast.
11:30pm – 12:30am Revenge of the Nerdlesque (18+)
The nerdiest burlesque artists of the Twin Cities return to the HarmCon stage with a vengeance for another round of geek-infused burlesque and cabaret performance art! See characters from con-loved movies, tv, books and comics in a whole new light.
Saturday
Like what you see? Check out Harmonic CONvergence on the CONvergence online schedule and app to add your favorite performers to your personal schedule!
Perform at HarmCON
Interested in performing at Harmonic CONvergence? Maybe you have a musical or comedy act, or another idea? We'd love to work with you! Please see our Musicians/Performers page for information on performing at CONvergence!
Questions & Comments
Have questions or comments about HarmCon? Contact Harmonic CONvergence!