CONvergence is a volunteer-run event and couldn't exist without countless hours of work from hundreds of dedicated fans. That's true from the Department Heads and Staff of the Convention Committee to the at-con volunteer who works a single hour as a badger.
Check out some of the volunteer positions available. There are ways to help out for all interests and ability levels! We're also always looking for convention committee (ConCom) members to staff departments for the convention year-round.
All CONvergence volunteers attending the convention must register for the convention. (Volunteering does not get anyone a free membership.) If you have any questions or would like to volunteer in any area of the convention, please contact the Volunteer department.
---
Volunteers Table
If you're looking for opportunities to volunteer during CONvergence, you can either contact the volunteer department ahead of time, or visit the Volunteers Table during the convention!  (The Volunteers table is located in Verandas 1-4, right next to Registration & Badge Pick-Up.)
Volunteers Table Hours
Wednesday 9:00am – 6:00pm, 9:00pm – Midnight
Thursday 9:00am– 10:00pm
Friday 9:00am – 10:00pm
Saturday 9:00am – 10:00pm
Sunday 9:00am – 8:00pm
Monday 10:00am – 2:00pm
The Volunteers Table is our primary at-con location to coordinate and gather volunteers. It is also where you will pick up and turn in your Volunteer card, and where you'll be able to get your volunteer ribbon, t-shirt and other cool volunteer thank you gifts!
We will have volunteer positions posted on a whiteboard at the Volunteers table throughout the Convention. Be sure to watch closely because they will be changing periodically.
Volunteers are always needed after hours, too! If the Volunteers Table is closed for the night, stop by The Bridge to find out about at-con volunteer opportunities!
Volunteers Den
CONvergence provides a space for our valued Volunteers to relax after their shift, get some healthy food, have a massage or just hang out with other volunteers. Check out our Volunteers Den page for more info!
Volunteers Party
Every year, CONvergence invites each and every one of that year's volunteers to come together for our annual Volunteers Party, complete with snacks, games, door prizes and more!
The CONvergence 2017 Volunteers Party will be Saturday, July 29, 2017 at 7:00pm until 11:00pm at the DoubleTree by Hilton Bloomington.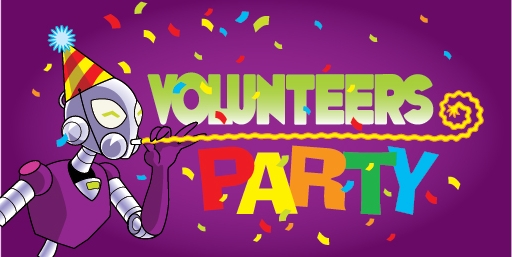 All you need to do for your invitation to this event is volunteer a mere 1 hour of your time to help make CONvergence the awesome, friendly, fun event that it is!