Did you volunteer for at least 1 hour towards or during CONvergence 2014? If so…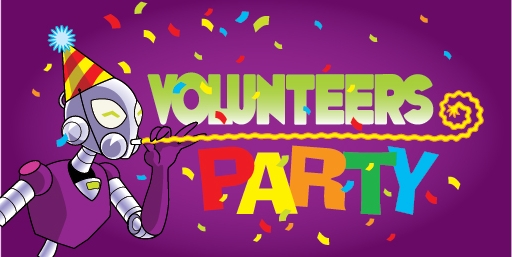 You are invited The CONvergence 2014 Volunteers Party!
When: Saturday, July 19, 2014 at 7:00pm until 11:00pm
Where: DoubleTree by Hilton Bloomington
Why: Because it's fun to party with CONvergence volunteers, of course!
Snacks and beverages will be provided for all volunteers, and the hotel will have a cash bar set up. The pool and hot tub will be open for us to enjoy and we will have a changing room available. Bring your swimsuit, bring a game to play, bring CONvergence stories to share, and most importantly, bring yourself!
Volunteer Perks
Volunteer T-Shirts and other Volunteer Perks will also be available during the party!
If you forgot to turn in your green volunteer card at CONvergence 2014, you can either bring it to the party before 9:00pm or scan it and email the file to [email protected].
Prize Drawings
CONvergence members with 10 or more volunteer hours logged are eligible to enter a prize drawing for one of the following awesome prizes! Winners will be drawn during the party and prizes may be picked up until 9:00pm.
10th Doctor Who Sonic Screwdriver Programmable Universal Remote Control
Harry Potter Remote Control Wand – Programmable Remote Control
Gargoyles DVDs Complete Season 1 and Season 2
Cards Against Humanity Card Game with the 1st, 2nd and 4th Expansions
Kindle Fire 7″, HD Display, WiFi, 16 GB
Monopoly Doctor Who Edition 50th Anniversary Collector's Edition Game
Fantasy Flight Game's Eldritch Horror
Fantasy Flight Game's Blood Bound
Fantasy Flight Game's Star Wars RPG: Age of Rebellion Beginner Game
 Set of Autographed Books
If you have any questions about the 2014 Volunteers Party, please contact the CONvergence Volunteers Department.