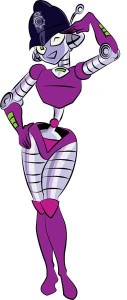 CONvergence Nerfherders are using a new online reservation system for Badger, Elevator Operator, and Line Management shifts at CONvergence 2014! Reserving your Nerfherder volunteer time slot is now smoother than ever!
Here's how it works in 3 easy steps:
Click the appropriate VolunteerSpot link below for how you'd like to volunteer
Enter your email address (You will NOT need to register an account on VolunteerSpot)
Sign up! Choose your shifts – VolunteerSpot will send you an automated confirmation and reminders. Easy!
VolunteerSpot does not share your email address with anyone. Regardless, if you prefer not to use your email address for this purpose, please visit Nerfherders next to the Volunteer Table in CONvergence Central to volunteer.
The online shift reservation system will be available during the convention, as well as at the Nerfherders table in CONvergence Central.
Want to read more about volunteering as an Elevator Operator, Badger or Line Manager? Check out the CONvergence Volunteer Positions page!
If you have any questions about volunteering to help with crowd management at CONvergence, please contact Nerfherders.