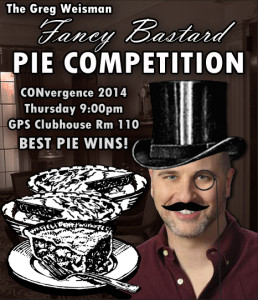 Are you good at making deserts? Are you a fan of Young Justice? Then this is the event for you!
Geek Partnership Society is excited to host the Greg Weisman Fancy Bastard Pie Competition in the CONvergence GPS Clubhouse (room 110) at 9:00pm Thursday July 3, 2014. It is open to all CONvergence members who wish to participate!
The goal is to make a pie that CONvergence 2014 Guest of Honor Greg Weisman, herein to be known as "Fancy Bastard", likes best.
Winners will be told super-secret Young Justice spoilers.* Find out what would have happened in Season 3!
*Must swear to secrecy to claim prize.
In the interest of full disclosure, Fancy Bastard would like all to know that he especially likes the following pies:
Apple
Berry (pretty much any kind of berry or a mix of same)
Peach
Apricot
Pumpkin
Banana Cream (herein to be known as the funniest pie)
Combinations of some of the fruit pies can be great.
Contestants are welcome to try other pies at their own risk.
Fancy Bastard does NOT especially like the following pies:
Pecan
Anything with Chocolate
Raisins in Apple Pie
Almost never Cherry (though he has tasted the rare exception)
See you in the GPS Clubhouse (Room 110) at 9:00pm on Thursday! Bring a pie… and your appetite!