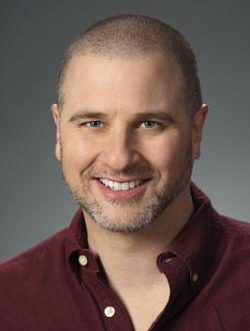 Greg Weisman has been a storyteller all his life. His first professional work was as an Associate Editor and Freelance Writer for DC Comics, where he worked on the Captain Atom title, among others.
Greg worked at Walt Disney Television Animation from 1989 through 1996. In 1991, Greg and his team created and developed a new series for Disney: Gargoyles. Greg left his position as an executive to become the Supervising Producer and Supervising Story Editor of the first 66 episodes of that series. In 1996, Greg left Disney for DreamWorks Television Animation, where he also developed numerous projects.
In October of 1998, Greg left DreamWorks to become a full-time freelance writer, story editor, producer, voice director, and voice actor. He produced the first season of Max Steel, the second season of W.I.T.C.H. and, wrote, story edited, and voice acted for Sony's The Spectacular Spider-Man. He then moved over to Warner Bros., where he wrote the Green Arrow direct-to-DVD short for DC Showcase and produced, story edited, wrote, and voice acted on the Emmy-winning Warner Bros./Cartoon Network series, Young Justice.
After spending time as writer and Executive Producer on the first season of Star Wars Rebels for Lucasfilm and Disney, Greg is currently back on Young Justice, producing, writing and voice acting on the fan-demanded third season.
Greg writes more than animation. He wrote the companion Young Justice monthly comic book for DC Comics and issue #622 of The Amazing Spider-Man for Marvel. He also wrote the Gargoyles and Gargoyles: Bad Guys comic books for SLG Publishing. Most recently, he wrote Star Wars: Kanan and Starbrand & Nightmask for Marvel.
Greg's first novel, Rain of the Ghosts, was published in 2013; its sequel, Spirits of Ash and Foam, arrived in bookstores in 2014. The full-cast unabridged AudioPlay of Rain of the Ghosts is currently available on Amazon and iTunes, etc. His latest novel, World of Warcraft: Traveler hit bookstores in 2016 and its follow-up, World of Warcraft: Traveler: The Spiral Path, in November 2017.
Greg is happily married to his wonderful wife Beth and has two incredibly amazing kids. (Plus a dog and a cat.)
You can learn more about Greg Weisman on his website, Ask Greg, follow him on twitter as @Greg_Weisman, or head over and like his Facebook page.