Katherine Kurtz

Katherine Kurtz was born in Coral Gables, Florida during a hurricane, and likes to think this was an auspicious introduction to the world. She read honours humanities at the University of Miami, from which she received a B.S. in chemistry, and attended medical school for a year before deciding she would rather write about medicine than practice it. She completed an M.A. in medieval English history at UCLA while writing her first two novels and working as an instructional designer for the Los Angeles Police Academy, and continued her police work for the next ten years. She is also a professionally trained hypnotist, a student of comparative religion, a passable authority on heraldry and chivalry (she belongs to several modern-day chivalric orders, and her husband has just been appointed a state herald for Ireland), a virtuoso at counted cross-stitch (in her copious spare time), and an avowed cat person.
Besides the Deryni, Camber, King Kelson, and Heirs of Saint Camber Trilogies (and a collection of short stories set in the Deryni universe, plus a book on Deryni magic), she has written a juvenile science fiction novel, Legacy of Lehr: a World War II thriller, Lammas Night, dealing with magic worked in the summer of 1940 to keep Hitler from invading England; and an alternate history of the American War for Independence called Two Crowns For America. A new Deryni novel is nearing completion (King Kelson's Bride), with at least two more trilogies projected for the future.
Partnered with Deborah Turner Harris, she has written five books in her adept series of occult detective thrillers set in modern Scotland. Their next team effort, The Temple and the Stone (out in August from Warner), explores the Scottish War of Independence, The Knights Templar, The Stone of Destiny, William Wallace, and Robert the Bruce.
Her first editing foray, Tales of The Knights Templar, appeared from Warner Books in 1995, and contains a solo Adam Sinclair story, in addition to an extensive history of the Templars interwoven in the introduction and connecting narrative. A second volume, On Crusade: More Tales of The Knights Templar, will appear in June, and also contains a solo Adam Sinclair story.
Ms. Kurtz lives in a gothic revival house just south of Dublin with her husband, author and screen-writer Scott MacMillan, their computer programmer son Cameron, four cats, and at least two resident ghosts–the latter of whom seem to approve of the restoration work being done to their house by the MacMillans.
For a listing of Katherine's works, visit http://www.fantasticfiction.co.uk/authors/Katherine_Kurtz.htm.
---
Andrew Probert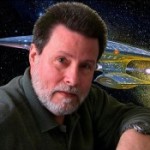 "This has been one of the best cons I've ever been to. These people are great organizers. Everybody's been really freindly here and I've just really enjoyed myself. And maybe I'll get to come back."
– Andrew Probert (2003)
Andrew Probert is an artist who is best known for designing the USS Enterprise for Star Trek: The Motion Picture and the Enterprise-D for Star Trek: The Next Generation.
Born in Independence, Missouri, Andrew spent time in the US Navy before studying at the Art Center College of Design in Pasadena, California.
His first film/TV work was on Glen A. Larson's 1978 ABC miniseries Battlestar Galactica, for which he was recommended by artist Ralph McQuarrie. For Galactica, Andy contributed the design for the Cylon Centurions as well as building one of the physical spaceship models for the "rag tag fleet", seen in the opening title sequence of each episode of the series.
In 1978 he went to work for Robert Abel and Associates working on Star Trek: The Motion Picture, where he worked as a concept designer/illustrator. When Abel's group was fired, Andrew survived the transition to the group of new effects supervisor Douglas Trumbull. "Being a fan of the series… I was very familiar with the show's design philosophies," explains Andrew. When the Trek Movie of the Week was canceled in order to produce 'The Motion Picture', Joe Jennings had already put together their version of the "upgraded" Enterprise and a model had been loosely put together. We, on the motion picture team, took on the challenge of providing a look that was beyond that scope of television thinking."
In addition to designing the new Enterprise, Andrew was primarily responsible for designing the human and Vulcan space technology seen in the film, including the space drydock, orbital office complex, travel pod, Work Bee support vehicles, and a two-part Vulcan long range shuttlecraft. His concept for the bridge set of the Klingon battlecruiser set the style for all future Klingon ship interiors.
In 1984 he worked on Back to the Future, initially drawing storyboards but then continuing the design of the Delorean time machine that had been started by Ron Cobb.
Also in 1984 he designed the bike for the pilot episode of Street Hawk, which was later redesigned for the series by Ron Cobb.
In 1986 he joined the staff of the then new show Star Trek: The Next Generation where he was initially hired to design the bridge of the new starship, the Enterprise-D. However, after the show's producers saw a speculative Enterprise sketch that Probert had produced he was tasked with designing the starship's exterior as well. During his one season stint on the The Next Generation, he also designed the exteriors of virtually every other space vehicle seen in the first year of the show, including the Romulan Warbird.
His film and television work also includes stints on Airwolf, Streethawk, *batteries not included, Space Camp, Mask, Tron, and The Philadelphia Experiment. He worked for a period at Walt Disney Imagineering.
In 2006, Andrew returned to Star Trek when he went to work for Perpetual Entertainment to work as a design consultant for their MMOG Star Trek Online.
Andrew Probert's official web site can be found at http://www.probertdesigns.com/.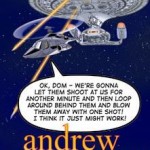 ---
John Kovalic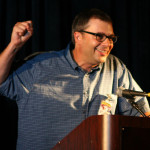 "CONvergence is really, really something special. A fantastic convention… so I was at a cabana party at 4 o'clock in the morning. That was not a storm earlier, that was angels crying because CONvergence is over."
– John Kovalic (2007)
John Kovalic is probably best known for his Origins and Eisner award-nominated Dork Tower comic book, which he has been writing and drawing since June 1998. Dork Tower exists in several incarnations, including a bi-montly comic published by Dork Storm Press, a monthly comic strip in Dragon magazine, Scrye magazine, and GAMES magazine, and online three times a week at GameSpy.com.
In John's own words, "Dork Tower is for anybody who's ever played Dungeons and Dragons, who's ever gone to a Star Trek convention, anyone who suspects that Anime is more than just a passing fad, or anyone who KNOWS one of these people. But it's really for people who know what saving rolls you need to make against a level III Demon, which Classic Trek episodes involved the Prime Directive (and who were the directors), and the names of six minor characters and a dog in the Bubblegum Crisis."
John also produces the comic series SnapDragons(with Liz Rathke) and Dr. Blink: Superhero Shrink (with Christopher Jones and Melissa Kaercher). His editorial cartoons have appeared in the New York Times and Washington Post, and he continues to freelance for Milwaukee's Daily Reported and his hometown Wisconsin State Journal (Madison, WI).
In addition to his comics work, John is co-owner and co-founder of Out of the Box Games, whose Apples to Apples has sold more than two million copies. He's also a best-selling and prolific freelance game illustrator (Munchkin, Chez Geek, Mag*Blast).
John is a dual national of Great Britain and the United States, currently living in Wisconsin. In John's free time, he searches for free time. To learn more about John Kovalic and his work, visit http://archive.gamespy.com/comics/dorktower.
---
Eric Flint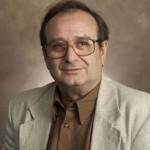 Eric Flint is an author of alternate history and science fiction, and humorous fantasy adventures, in addition to being an editor and e-publisher.After winning the 1993 Writers of the Future contest, Eric published his first novel in 1997 and moved to full time writing in 1999.
Shortly afterwards, he became the first librarian of the Baen Free Library and a prominent anti-copy protection activist, which stance he's continued. Additionally, he has been editing the works of several classic SF authors, repackaging their short stories into collections and fix-up novels. The resulting story collections have been commercially successful and have succeeded in returning out-of-print authors to print.
In 2004, faced with a persistent drain on his time by fan-fiction authors seeking comment on the four-years-old 1632 Tech Manual web forum focused on his 1632 series, he suggested to Jim Baen the experimental serialized fan-fiction e-zine The Grantville Gazette which also found commercial success. Four of the Gazette magazine editions were collated into anthology formats, bought by Jim Baen and brought out in either hardcover or paperback or both formats. Subsequently, Flint became editor of the new Jim Baen's Universe science-fiction e-zine while concurrently remaining a creative writer bringing out three to five titles per year. After the death of Jim Baen due to a stroke and after completing the contract for the tenth Grantville Gazette, Flint founded a new website "grantvillegazette.com" which is not only continuing to bring out The Grantville Gazettes, but increasing the publishing rate from four per year to bimonthly while paying better than standard magazine pay rates and is modeled on the JBU e-zine.
Eric's own writing includes a number of popular series written solo or in collaboration with other authors.
The Belisarius Series written in collaboration with David Drake began with An Oblique Approach in 1998, and is an epic series involving eugenics programs, time travel, and alternate timeines.
The Assiti Shards series includes Eric's popular 1632 and its sequels and spin-offs, telling the story of the inhabitants of a small town in the USA who find themselves transported back to Central Germany in the late spring of 1631 with no way back.
Eric has also contributed to the Heirs of Alexandria series with Dave Freer and Mercedes Lackey, the Rats Bats and Vats series, also with Dave Freer, and has written stories for David Weber's Honor Harrington universe.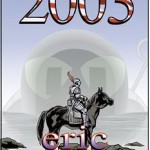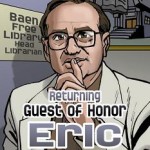 ---
Michael Sheard
He played Admiral Ozzel in The Empire Strikes Back.
He played Arch-Villain Adolf Hitler in Indiana Jones and The Last Crusade.
He's appeared on Doctor Who several times, working with every actor to have played the Doctor.
He's guest-starred on Space: 1999, Blake's Seven, The Tomorrow People, and a host of other British series, too numerous to mention here.
Who is he? He's British actor Michael Sheard, one of the CONvergence 2003 Guests of Honor.
Michael loves fans and conventions, and he's sure to be a lot of fun with stories to tell about working with George Lucas, Steven Spielberg, and all the stars of Doctor Who.
To see all of the things Michael has done, take a look at his page at www.imdb.com (Internet Movie DataBase) by clicking here.