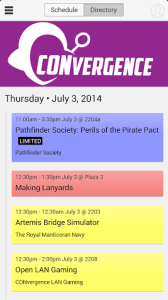 Keeping track of your CONvergence schedule during the convention is now easier than ever! New in 2014, we are excited to announce the release of an official CONvergence 2014 mobile schedule app for both iOS and Android!
Download the App:
The app is free to download and use. If you have any questions about the CVG2014 mobile app, please contact CONvergence Programming.
The CONvergence 2014 schedule is also available online via the internet browser on your computer, mobile phone or tablet. It can be accessed directly at http://schedule.convergence-con.org or navigated to from the Schedule page of the CONvergence website.
The schedule will continue to be updated as we get closer to the convention, so keep checking back for updates!