CONvergence is an annual convention for fans of Science Fiction and Fantasy in all media: a 4-day event with more than 6,000 members, and the premiere event of our kind in the upper Midwest.
"We have so much time and so little to do. Strike that, reverse it."

—Willy Wonka, Charlie and the Great Glass Elevator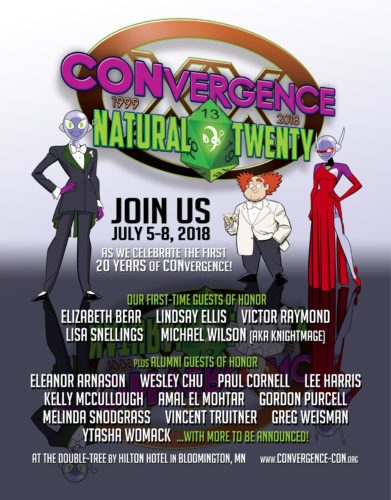 Two decades ago in the year 1998, planning began for what was hoped to be a new kind of Science Fiction convention here in the Midwest. Fans of sci-fi and speculative fiction literature, movies, television, and books planted a flag with gamers, costumers, writers, and artists to create a fan-run, non-profit convention that would be an inclusive, enthusiastic gathering of all the the clans that make up genre fandom. Some of these founding volunteers had many years of experience working on sci-fi conventions, and others had none at all. Their hope was to have at least 500 people attend their inaugural convention in 1999.
The first CONvergence had an attendance of 1,500.
20 years later CONvergence has grown to over 6,000 members and is still going strong. What a ride it has been! There have been ups and downs over two decades, but the convention has grown and evolved and continues to embrace the diversity and inclusion fundamental to its multi-genre roots, all the while never losing its sense of showmanship. In 2018 we will be celebrating the full 20-year history of CONvergence with a huge slate of new and Alumni Guests of Honor in addition to special programming that will look back at our history as a convention and a community.
If you usually turn to the convention's annual theme to plan your party, cosplay, panels, performances, and more, know this: at CONvergence 2018 it's ALL on the table—every theme we've had in the past 20 years. Was there a year you missed? Was there a great idea that came too late or the resources weren't there? Now's your chance!
Head over to the Archive to learn more about the first 19 years of CONvergence. Explore the themes, the guests, the films, and so much more.
Join us July 5-8, 2018 in Bloomington, MN as we celebrate the first 20 unforgettable years of CONvergence at CONvergence 2018: Natural Twenty!