Sophie Aldred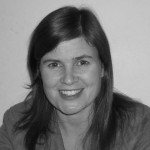 Best known for her portrayal of the 7th Doctor's companion, Ace, Sophie Aldred is an English actress, singer, and television & radio presenter with a love of performing for children. After her 1987-1989 run on Doctor Who, Sophie presented the long-running BBC series Words and Pictures, Melvin and Maureen's Music-a-Grams, and other children's programs. She's been a voice actress in Big Finish Production's Doctor Who audio plays, as well as animated series such as Bob the Builder and Dennis & Gnasher.
A fan of Doctor Who as well as a performer, she co-wrote, Ace, The Inside Story of the End of An Era with Mike Tucker in 1996. From serving milkshakes on an ice planet to flinging Nitro Nine canisters at Daleks, she share's Ace's perspective on the universe of Doctor Who.
Follow Sophie on Twitter (@sophie_aldred)
---
Bonnie Burton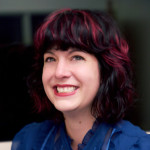 San Francisco-based author Bonnie Burton writes about everything from Wookiees to mean girls. Best known for her Star Wars crafts and drawing books, Bonnie's geektastic books include: The Star Wars Craft Book (Del Rey/Random House), Draw Star Wars: The Clone Wars (Klutz Books), You Can Draw: Star Wars (DK Children), and Star Wars: The Clone Wars: Planets in Peril (DK Readers).
In addition to her Star Wars books, she wrote a teen girl advice book on how to deal with mean girls while not becoming one called Girls Against Girls: Why We Are Mean To Each Other and How We Can Change (Zest Books). The book features helpful advice written for teen girls, as well as advice from female celebrities such as Tegan from Tegan & Sara, Jane Wiedlin from The Go-Go's, and Hannah Aitchison from "L.A. Ink."
Bonnie's ground-breaking first book is an anthology of stories and essays from prominent bloggers, and interviews on why they blog, called Never Threaten To Eat Your Co-Workers: Best of Blogs (Apress). Bonnie contributed to the comic book anthologies Womanthology (IDW Press) and The Girls' Guide to Guys' Stuff (Friends of Lulu. Her writing has also appeared in Wired, Bust, Craft, Star Wars Insider, Geek Monthly and Organic Gardening magazine, as well as Boing Boing, AOL, Huffington Post, CNN, Astrology.com, and Teenwire.com. She currently writes a monthly column for SFX magazine.
As the founder of one of the first women's pop culture web sites Grrl.com, as well as an influential pop culture author, Bonnie has appeared numerous times on MTV, as well as E! Television, and has been profiled in Entertainment Weekly, Wired, Fast Company, Print, and Teen magazine.
When Bonnie's not writing books or making Chewbacca sock puppets, she's answering questions about ghost hunting, weird candy, troll dolls and bizarre warning labels on her vlog "Ask Bonnie" which can be found on Youtube. She also appeared as the host of for the music video shows "Subculture" (San Francisco) and "Teletunes" (Denver).
Find Bonnie on Twitter (@bonniegrrl), Facebook, Google+ and on her site: Grrl.com.
---
Jennifer Clarke Wilkes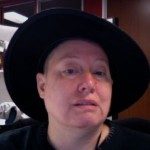 Jennifer Clarke Wilkes has been a gamer since 1978, when she stumbled upon the Carleton University Strategy Club. She met her husband Chris Wilkes playing D&D, and they proved the course of true love could persist in the face of mutual character destruction. Originally from Canada, she spent 10 years honing her technical writing and editing for the Canadian government and the Justice Department before she decided to try her hand at game editing. As a freelancer she edited White Wolf's "Vampire: the Masquerade" and her project "The Last Supper" won an Origins Award. Hired by Wizards of the Coast in 1995, she worked on "Ars Magica" and spent several years editing "Magic: The Gathering" as well as working on the 2nd, 3rd, and 4th editions of "Dungeons & Dragons." In addition, she works for e-publisher ElectricStory.com.
---
Lyda Morehouse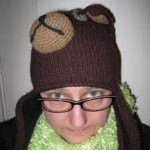 Lyda Morehouse wears a couple of different hats professionally. Under her own name, she's an award-winning science fiction author for the LINK Angel series, a unique blend of cyberpunk and religion. Her first novel, Archangel Protocol, won the 2002 Shamus Award and the Barnes & Noble Maiden Voyage Award, and was nominated for the Romantic Times Critic's Choice for Best Science Fiction. Her second novel, Fallen Host, made the preliminary Nebula Award ballot, and her fourth novel Apocalypse Array won the Philip K. Dick Special Citation Award for Excellence.
As Tate Hallaway she writes urban fantasy for adults (Garnet Lacey series, set in Madison, WI) and for teens (Vampire Princess of St. Paul series). Having been raised in LaCrosse, WI and currently living in St. Paul, MN means that the senses of place in these series is particularly well done, and Lyda's humor and sense of romance come through.
When she's not writing, meeting with her writing group the Wyrdsmiths, or spending time with her family, she occasionally teaches writing at the Loft and cartooning through Eden Prairie Community Education.
For more information on Lyda Morehouse and her work, check out her web sites at http://lydamorehouse.com/, http://tatehallaway.com/ and her writing group the Wyrdsmiths.
---
Sharyn November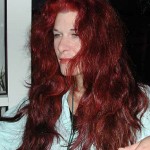 Sharyn November works directly with teen readers to find out what they want to see published. Nominated for World Fantasy Awards in the Best Professional category in 2004 and 2005, and in 2007 for Firebirds Rising as Best Anthology, she edits books for children and teenagers. She's worked with writers such as Laurie Halse Anderson, Pamela Dean, Charles de Lint, Sarah Dessen, Diana Wynne Jones, Kelly Link, Nnedi Okorafor, Sara Ryan, Megan Whalen Turner and more as Senior Editor for Viking Children's Books and as Editorial Director of Firebird Books, an imprint that focuses on fantasy and science fiction which she launched in 2002.
Sharyn loves music and once played in different bands as a singer/songwriter, rhythm guitarist and occasional percussion player, but she loves books and reading even more. She has devoted a portion of her personal website to other "obsessions" she has, which include origami, knitting, puppetry, and comics. She loves photography even though she's not a photographer, and lists tea, good chocolate, sushi, novelty candy, and British and Canadian food as something she consumes when she doesn't know what else to do. In her own words, "What I like best of all is stories – about self, about family, about the past. (This is one of the many reasons why I am an editor.)"
For more information on Sharyn November and her work, check out her personal web site Sharyn or her work at Firebird Books.
---
Tamora Pierce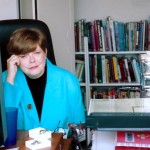 Tamora Pierce decided she wanted to be a writer in sixth grade, but life led her through a series of detours until her junior year of college, when she started writing again and sold a short story shortly after that. While she was in college she wanted a career in social work with teenagers, and in 1976, after moving to Kingston, New York, she became a housemother in a group home for teen girls. They became the first people to hear the story of Alanna the Lioness. The rest of the world got to hear Alanna's story in 1983 when Tamora's first novel, Alanna: the First Adventure, was published in her Song of the Lioness quartet.
Tamora continued to write through the next decade, but held a number of day jobs including reading slush piles, reviewing movies, freelance editing, and running a radio production company where she wrote, acted in and directed radio plays. Finally in 1992 she became a full time author. "I enjoy writing for teenagers," Pierce once commented, "because I feel I help to make life easier for kids who are like I was." Teens and adults love her work, which has been nominated for and won numerous awards. Check out The Realms of the Gods, Circle of Magic, Trickster's Choice, and Lady Knight in particular.
For more information on Tamora Pierce and her work, check out her web site at http://www.tamora-pierce.com/.
---
Ruth Thompson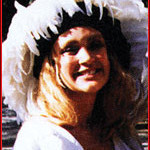 CONvergence welcomes Ruth Thompson back. This former Guest of Honor from 2000 loves art. Her passion took off at a science fiction convention in Alabama, where her sister and her "knight" made her sell her first fantastic drawings in the art show. "To this day the girl, who is now a much older (!!!) woman, still insists that it was the best $46 she ever made." She committed to art when she became a professional in 1990, creating fantasy illustrations for collectible card games, magazines, board games, books, role-playing games and prints for companies such as Royal Fireworks Press, Wizards of the Coast (for Magic the Gathering), Dragon Magazine, Palliard Press, Steve Jackson Games, Excalibur Hotel, Hot Topic, The Franklin Mint, and more.
She discovered early on that she worked best as an independent artist and started her own company, Tarnished Images, in 1991. Her business has grown from matting artwork in a college dorm room to a 3,500 square-foot retail location with eight full-time employees. Then in 1994 Ruth discovered the world of Renaissance Faires, the second love of her life. Because of these events her work can be seen from Arizona to New York, any month of the year in over 20 states and at 14 different Festivals. Look for her work in our art show.
For more information on Ruth Thompson and her work, check out her web site at http://www.tarnishedimages.com.
---
Judith Walcutt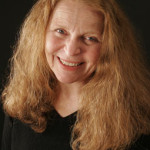 Judith Walcutt is a writer and director of theatre, radio, spoken word and television, who has received many awards and nominations for her work. A specialist in children's media, Judith was part of the production team for two nationally-acclaimed, award-winning children's radio series: "The Spider's Web" at WGBH/Boston and "East of the Sun, West of the Moon." Throughout her career of over thirty years in the arts, Judith has worked to promote literacy, a love of story telling, and use of the imagination to explore the fantastic.
Judith is CEO of Otherworld Media, a non-profit educational corporation she founded in 1981. Her husband, David Ossman of the Firesign Theatre joined the company after their marriage in 1987 and they have been happily collaborating on projects, boys (Orson and Preston), life, and dinner ever since. Walcutt was Executive Producer and Line Producer of Otherworld's productions of "The War of the Worlds 50th Anniversary Production," "Norman Corwin's We Hold These Truths" which honored the 200th Anniversary of the Bill of Rights, and the Parent's Choice Gold Medal Winner, "The Centennial Celebration of The Wizard of Oz," among many others. All were broadcast by thousands of stations worldwide. Judith is currently working on the development of two TV series for young people–one of which is Space Science based– and she is writing the narrative for a planetarium experience, in celebration of the 50th Anniversary of the Seattle World's Fair.