David Gerrold

David Gerrold started writing professionally in 1967. His first sale was the classic "The Trouble with Tribbles" episode of Star Trek. He would take advantage of his involvement in the show to write The World of Star Trek, the best-selling book about the birth of the astonishing Star Trek phenomenon. Within five years of beginning his writing career, he had published seven novels, two books about television production, three anthologies, and a short story collection. He was nominated for the Hugo and Nebula awards six times in four years.
Since 1967, he has published more than forty books. Several of his novels are considered classics, including The Man Who Folded Himself, When HARLIE Was One (the first science fiction novel to predict computer viruses and anti-virus software), and the four books of The War Against The Chtorr. Gerrold¹s other book series include, Trackers, Dingillia, and Enemy Mine (with Barry B. Longyear).
David has written episodes for over a dozen different television series, including Star Trek, Star Trek Animated, Twilight Zone, Land of the Lost, Babylon 5, Sliders, Logan's Run, and Tales From The Darkside.
In 1995, he won the Hugo, Nebula, and Sturgeon Awards for The Martian Child, an autobiographical tale of his son's adoption.
Gerrold has also written the novel The Flying Sorcerers (1971) with fellow CONvergence 2004 Guest of Honor Larry Niven. For more inforamation on David Gerrold and his work, visit his personal web site at http://www.gerrold.com.
---
Denise Garner

"My mother says that she could always tell when I was getting tired, out came the paper and pencils!" That was how it began, and now years later the beautiful watercolor paintings and drawings of Romantic Fantasy Artist Denise Garner are well known to midwestern Fantasy Convention attendees, capturing the attention of avid collectors. She has won numerous awards, including jurors choice at GenCon 2003.
Much of her artwork draws upon classical themes, and her studies of myth and fairy tale literature are evident in the narrative style she has developed over the years. "I eschewed formal training and started to make my own magic, finding a niche in the fantasy and science fiction art community, wherein I have continued to explore narrative painting and imaginative realism."
Denise has been attending SF/Fantasy conventions since 1989, and her parties and antics have become a regular fixture in the regional convention scene. For more information on Denise and her work, visit her official site at http://towerwindow.com.
---
Larry Niven

Larry Niven started writing in the 1960s and is now considered one of the grand masters of hard science fiction. Niven is probably best known for his "Known Space" future history, which to date contains over 30 short stories and novels, which intermingle into a complex timeline dating from several billion years into prehistory into the fantastic future world of 3200 and beyond.
Perhaps the most famous of the Known Space titles is Ringworld, which earned Niven both the Hugo and the Nebula awards in 1970 and the Australian Ditmar Award in 1972. Other solo novels outside of the Known Space cannon include A World Out of Time (1976), The Magic Goes Away (1977), and The Integral Trees (1984).
In addition to his Hugo and Nebula Awards for Ringworld, Larry also has won Hugo Awards for Neutron Star (Best Short Story 1967), Inconstant Moon (Best Short Story 1972), The Hole Man (Best Short Story 1975), and The Borderland of Sol (Best Short Story 1976). Niven was awarded the Skylark Award in 1973 (officially the "Edward E. Smith Memorial Award for Imaginative Fiction"), given annually by the New England Science Fiction Association for significant contribution to SF in the spirit of the writer E.E. ³Doc² Smith.
For more information on Larry Niven and his work, we recommend http://www.larryniven.org.
---
Vincent Truitner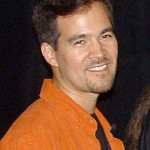 "I was totally unprepared for the reception and the enthusiasm everyone showed when I came here… just meeting everyone was the best thing about the whole experience."
– Vincent Truitner (2004)
Vincent Truitner is a native of Los Angeles but grew up in Minnesota, graduating from Ramsey (now Roseville) High School in Roseville, MN. He always had artistic leanings and was fascinated with fantastic stuff — monsters, aliens, starships, robots, you name it, as long as it wasn't mundane. He was 9 years old when Star Wars came out and to him, that was really the ultimate. "I wondered if I could ever work on something like that," says Vincent.
After some years at the U of M, Vincent transferred to the Rhode Island School of Design (RISD), sometimes referred to as the "Harvard of art schools," and received a BFA in Illustration, while minoring in Animation. Vincent calls RISD "The opportunity that changed everything for me, and I received my best years of art training there."
After graduating from RISD in 1996, Vincent landed an animation internship at Pixar Animation Studios, which had just released their ground-breaking CGI animated feature Toy Story. "There I learned how to bring virtual characters to life on the computer, and this has led to my present career as an animation/FX artist in film," says Vincent.
After doing early development work on Toy Story 2, he was hired by WB animation to help bring to life the title character of The Iron Giant, and returned there to animate the CGI character Drix in Osmosis Jones and the CGI demons in the live-action Scooby-Doo. In between those projects he also worked on two independent animated shorts, and at Cinesite Digital Studios (FX studio of the X-Men films) on a CGI Satan in what Vincent calls "A bad, little-known Christian apocalypse film called Megiddo."
He was a senior animator at Sony Imageworks, and was an animator on the squid-like robot Sentinels for "The Matrix Revolutions." He was an animator on "Spider-Man 2," working on the digital versions of Spidey and his next nemesis, Doctor Octopus. The film went on to win 2004 Academy Award for Visual Effects.
Vincent also served as animator for the 2006 animated feature Monster House, helping to animate the titular abode – a remarkably complex animated character. Attendees of CONvergence 2006 had the opportunity to attend a free, early screening of Monster House in 3-D, which featured a Q&A session by Vincent after the film.
Most recently, Vincent worked at Rhythm & Hues Studios on the fantasy epic "The Golden Compass," where he was part of the team that brought the film's distinctive animal daemons to life. He also worked as an animator on the titular characters of another major holiday release, 'Alvin and the Chipmunks."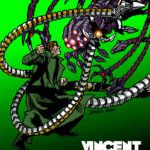 ---
Christian Colquhoun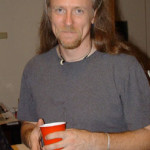 "I need to learn to relax…"
– Christian Colquhoun (2004)
For over thirty years Christian Colquhoun has been involved in almost every aspect of toy design, prop design, and construction, special effects, mechanical effects makeup, and miniatures for motion pictures, Television, and many other forms of mixed media.
Christian joined the film industry by taking a summer job at the age of 19, and has been building mechanical special effects, miniatures, animatronics, props and costumes for film, television and stage ever since.
Over the years he has had the pleasure of working at such great facilities as Mattel, Boss Film, Stetson Visual Services, New Deal Studios, Industrial Model and Design, and Stan Winston Studios.
During Christian's time with the Stan Winston Studio, he served as a mechanical designer on Mousehunt (1998) and Small Soldiers (1998), Puppeteer and Effects Supervisor for Inspector Gadget (1999), and animatronic effects supervisor for Galaxy Quest (2000).
Christian has done extensive work designing science fiction and fantasty weaponry, including Hugh Jackman's arsenal for Van Helsing, and the retro-weaponry of Joss Whedon's Firefly.
Christian's other film work has included Robocop, Resident Evil 3, Die Hard 4, Pirates of the Carribean 2 & 3, Lemony Snicket, Minority Report, Team America, The Island, True Lies, Toys, Hook, Interview with a Vampire, Hunt for Red October, Lost World: Jurassic Park II, Terminator 2 : Judgment Day and more!
After having owned an operated the special effects and design facility Applied Effects in Culver City, California for over 6 years, Christian currently works as a consultant and freelance toy and entertainment designer.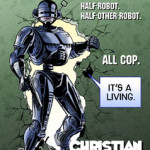 ---
Crist Ballas

Returning Guest of Honor Crist Ballas has been working professionally in the field of Special Make-up and Effects since 1982. In addition to his long association with the locally produced Mystery Science Theater 3000 series, Crist has worked on feature films such as End of Days, A Simple Plan, The 13th Warrior, Mallrats, Jingle All the Way, and yes, Batman and Robin. His studio "Metamorphosis" specializes in "designing and implementing natural, corrective and character make-ups. On the automated side, mechanical masks, creatures and puppets, with cable and/or radio controlled mechanisms."
To learn more about Crist Ballas and his work, visit http://www.metamorphosismakeup.com/biopage.html.