When you register for CONvergence before January 15, 2017, you will be given the opportunity to enter the lottery for a hotel room.  Entry into the CONvergence hotel lottery is completely integrated with online registration. You cannot enter the hotel lottery without registering for CONvergence.
---
Information Needed
To enter the CONvergence hotel lottery, you must specify…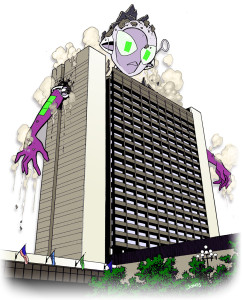 Preferred type of Room (king, double)
Priority Placement
If applicable, be sure to indicate the following for priority placement…
Wheelchair accessible room
ConCom Membership (will be verified)
30+ Hour Volunteer (will be verified)
Other Options
If you don't want to participate in the CONvergence hotel lottery, there are several other overflow hotels that can be booked directly and free shuttles to get you to and from the convention.
Please Note
Due to overwhelming demand, your entry into the CONvergence hotel lottery does not guarantee you a room. Non-priority hotel lottery winners will be determined at random. The CONvergence Hotel Department will establish lottery winners and work closely with hotel staff to fill the hotel to capacity. Everyone who enters the hotel lottery will be notified whether or not they won a room reservation via the email address they used to register for CONvergence.  Notifications should be delivered by March 15, 2017 and will include information about the steps needed to confirm your reservation. A wait list will be in effect until May 31, 2017, after which any hotel rooms that become available for whatever reason will be offered to all members on a first-come, first-served basis.
No CONvergence hotel lottery entries will be accepted after January 15, 2017.  All decisions of the CONvergence Hotel Department are final.  No DoubleTree reservations made outside the lottery system will be honored by CONvergence or by the hotels involved.  Hotel confirmations cannot be transferred.  Please contact the CONvergence Hotel Department if you have any questions about this process.