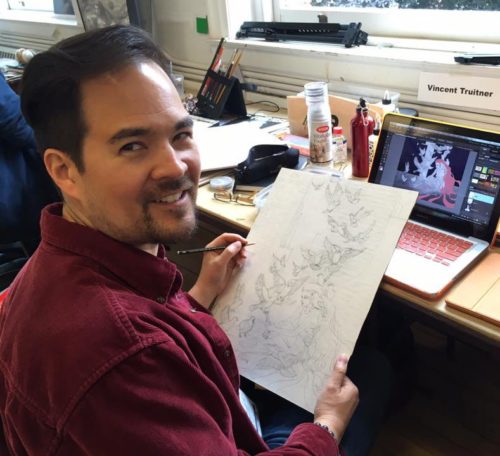 Vincent Truitner is an artist and a veteran digital character animator whose work appears in over twenty feature films, from the 1999 acclaimed animated classic The Iron Giant to the latest installment of the Spider-Man franchise, 2017's Spider-Man: Homecoming. Over his twenty-year career he has been part of two Academy Award-winning visual effects crews (Spider-Man 2 and The Golden Compass) and has worked at nearly every major visual effects studio, from Industrial Light & Magic and Sony Imageworks to Double Negative and Digital Domain.
Other popular films featuring Vincent's animation include Maleficent, Transformers: Age of Extinction, Miss Peregrine's Home for Peculiar Children, Legend of the Guardians: The Owls of Ga'hoole, The Amazing Spider-Man, Monster House, and The Matrix Revolutions. To date he is the only animator to have worked on all three cinematic versions of Spider-Man (Toby Maguire, Andrew Garfield, and Tom Holland). Vincent's film career has taken him as far abroad as Australia and Singapore, and he currently lives and works in Vancouver, Canada (also known as "Hollywood North").
Vincent first learned the art of bringing digital characters to life in an internship at Pixar Animation Studios and is a graduate of Pixar University. He is an alumnus of Rhode Island School of Design with a BFA in Illustration. Prior to that, he attended the University of Minnesota and Alexander Ramsey (now Roseville) High School in Roseville, Minnesota. Along with his brother Ian (2017 CONvergence Guest of Honor), Vincent grew up in Minnesota and still considers himself a Minnesotan at heart.
From a very young age, Vincent has always had a strong affinity for art. The margins of his school notebooks, from grade school onward, were populated by fanciful creatures envisioned with the tip of his pencil. When not creating animation for feature films, Vincent combines his extensive experience in both animation and traditional art to create unique artwork in a variety of mediums. He is establishing a secondary career as a fine artist, having sold and exhibited work in galleries in Vancouver, Canada and Los Angeles, California. His current work explores the depiction of spirit forms—from traditional ghosts to apparitions who embody the spiritual essence of trees, elements, and environments.
Learn more about Vincent Truitner on his animation website, vintruitner.com, his art website, vctruitner.com, and follow him on Twitter as @vctruitner and Instagram as @vctruitner.