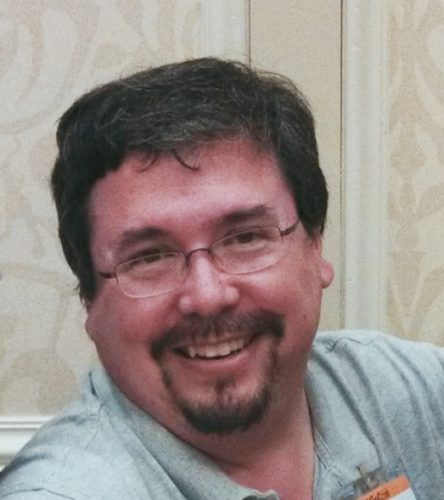 Victor J. Raymond, PhD, is a sociologist, gamer, writer and longtime political activist. He started gaming playing Avalon/Hill's U-Boat at the age of 8 with a friend's father. He went on to play more board wargames and discovered Dungeons & Dragons in 1975, along with miniatures; the Society for Creative Anachronism; science fiction fandom; and the Minnesota Renaissance Festival. He was a participant in Gary Alan Fine's seminal ethnography of role-playing games, Shared Worlds, published in 1983, and was a member of various gaming and science fiction clubs and conventions in the Twin Cities. Despite all of this, he went on to finish his Bachelor of Science from Macalester College in 1986. He graduated with Highest Honors for his thesis on the sociology of role-playing games.
Over time, Victor developed many close and enduring friendships in the gaming community in the Twin Cities and elsewhere. A friend of Dave Arneson and Prof. M.A.R. Barker, he was a member of the latter's Thursday Night Group of gamers from the early 80's until the mid-2000's. Victor was also close friends with noted science fiction writer John M. Ford, and played in many of his campaigns, and helped playtest Ars Magica, written by Jonathan Tweet and Mark Rein-Hagen.
In 2008, he worked to start the Tekumel Foundation, dedicated to preserving and promoting Prof. Barker's creative legacy, the fantasy world of Tekumel. The Foundation has published several reprints of role-playing game material by Prof. Barker, and licensed other companies to produce new material for the world of Tekumel. Victor is currently the chair of the Foundation.
Continuing his interest in science fiction and fantasy, Victor was a founding member of the Carl Brandon Society in 1999, an organization dedicated to increasing racial and ethnic diversity in the production of and audience for speculative fiction. The Society administers the Parallax and Kindred Awards, as well as the Octavia E. Butler Memorial Scholarship for the Clarion and Clarion West Writers Workshops. He is currently the Secretary of the Steering Committee for the Society.
Besides being a gamer and game preservationist, Victor is a member of the Rosebud Sioux Tribe and also has English and Scottish heritage. Victor's multiracial background has shaped his activism in a variety of areas, including tenants' rights, LGBT issues, the rights of the poor, and electoral politics. A founding committee member of the BECAUSE conference, he has been a National Co-coordinator for BiNet USA, an invited speaker at Creating Change, and the co-chair of the People of Color Caucus of It's Time, Minnesota. More recently, he was an invited guest to the White House three times during the Obama Administration for his work as a bisexual activist.
After moving to Madison, Wisconsin in 2009, Victor started Madison Traditional Gaming, a role-playing gaming club with 40-50 attendees every Tuesday night, playing in eight different campaigns. Most recently, he joined the Board of Directors of Tabletop Gaymers, is a resource for LGBTQ+ gamers to connect with one another. He currently serves as the adviser for the student games club and the Gender and Sexuality Alliance at Madison College, where he is an instructor of sociology.
Learn more about Victor Raymond by following him on Facebook and on Twitter as @badger2305.