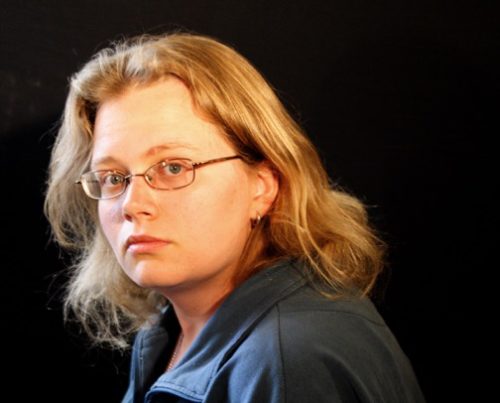 Seanan McGuire writes things. A lot of things. At last count she has written: 20 novels under her own name and another 8 under the pen name Mira Grant, 93 works of short fiction, 11 Essays or works of non-fiction, and 9 poems and books of poetry (all together, not 9 of each).
And she's still writing.
Seanan is the author of the October Day and InCryptid urban fantasy series—just part of her 28 novel list. She has won 5 Pegasus Awards, entirely on her own merits.
She has a penchant for anything venomous (and can probably tell you all about the antidotes). She has a fan club at the CDC (ask her about this one). And she claims to be amused for hours by almost anything.
To add to her many talents, Seanan is the cartoonist behind the web comic With Friends Like These. She's also a musician and filker with 6 CDs to her name and a song book of 319 songs. (Yes, you read that correctly. Three hundred and nineteen.)
Seanan lives in a creepy, remarkably orange house in the Pacific Northwest, which she shares with two enormous blue cats, a very angry iguana, and several hapless henchpeople.  There is not a moat filled with alligators yet, but she lives in hope.
Seanan's interests include cornfields, chainsaws, presenting herself as the most sincere patch, and drinking all the Diet Dr Pepper. (Which she swears is a food group of its own.)
To learn more about Seanan and all the amazing things she manages to squeeze into her already busy life, visit her website, www.seananmcguire.com, and follow her on Facebook or on Twitter as @seananmcguire.