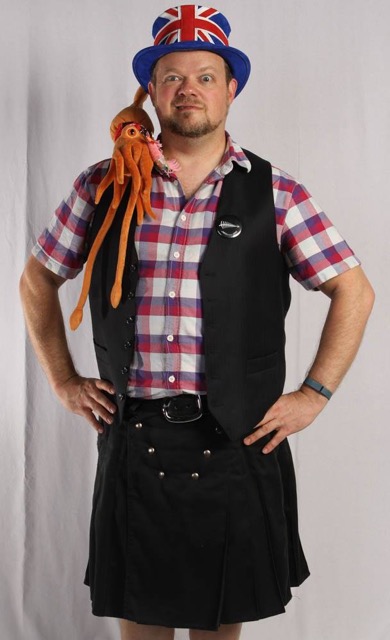 Norman Cates has been a Science Fiction and Fantasy fan for as long as he can remember. He realized early on that he wanted to get into special effects for movies, so he taught himself and picked up what he could from others.
He got his master's degree in chemistry because "I liked chemistry (I mean, who doesn't like blowing things up?) But also because it was useful for special make up effects.
After he graduated he worked in various jobs that weren't movie or special effects related. And he kept practicing his special effects make up techniques. He also kept sending his resume to Weta Workshop.
Finally, in 1999, Weta asked if he wanted to come and work on Lord of the Rings. "Um, gosh, let me think… YES!" was his answer.
Norman joined the prosthetics department where he made all of the elf ears, all of the fake noses worn by some of the actors, some of the hobbit feet, and various other prosthetics for the trilogy of movies.
He ended up in the Weta digital department, where he helped with the post-production of the whole trilogy. Since then, he's worked on King Kong, Eragon, The Day the Earth Stood Still, Waterhorse, Avatar, Man of Steel, Iron Man 3, The Avengers, X-Men: The Last Stand, The Hobbit: The Desolation of Smaug, The Hobbit: The Battle of Five Armies, and many others.
Norman's not just a special effects makeup artist and digital compositor. He's also a fan and a con-runner. He regularly attends WorldCon and GenCon here in the U.S. In 2004, he was the DUFF delegate from Australasia for Noreascon 4.
He's run national science fiction conventions in New Zealand and regularly helps out with others. He helped form the Science Fiction and Fantasy Association of New Zealand in 2002. He's even working on a bid to bring WorldCon to New Zealand in 2020.
He LARPs. A lot. He's an amateur actor. Most of all, he loves talking with people about his professional and fan work. So when you see him at CONvergence 2017, make sure you ask him about it.
Learn more about Norman Cates's work on his IMDB profile, and  follow him on Facebook.