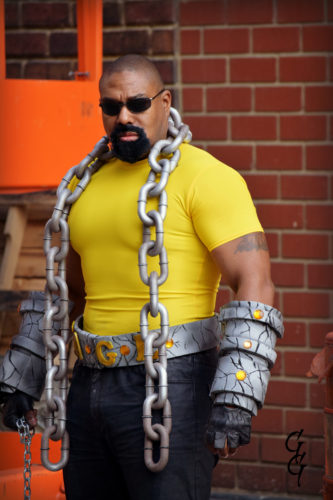 Michael "Knightmage" Wilson is an international cosplay entertainer, philanthropist, and stuntman.
He began cosplaying in 2012, drawing from a life-long love for comics and video games, and has since created over 100 costumes, many of his works having been praised and displayed on numerous platforms in print and online. Michael has been listed as one of the top male cosplayers in the world from websites such as The Richest, Screencrush, The Nerdery, Kotaku, Geeks are Sexy, and more. Throughout his convention appearances, Michael has judged multiple cosplay contests and hosted cosplay panels and workshops showcasing the positive, inspiring, and supportive side of cosplay. An avid wrestling fan, Michael has also created various costumes for World Wrestling Entertainment superstars.
Pursuing a love for acting and stunt work, Michael has worked on several Hollywood comic book movie productions including The Avengers, The Dark Knight Rises, Captain America 2: Winter Soldier, and more. He was also an alternate for the 2006 reality show "Who Wants To Be A Superhero" hosted by Stan Lee. Michael has also worked on and has been featured in several fan films and productions such as "Flash Fall" by Together Brother Productions, and the popular YouTube series MAN AT ARMS: Reforged.
Michael is a spokes model for independent comic companies Shot In The Dark Comics and Transgenesis Comics, having lent his likeness to be used for upcoming comic book characters.
Genuinely loving to entertain, make a positive impact, and bring smiles, Michael most often uses his costuming for charitable events, benefits, parades, birthdays, and hospital visits to children. This has led him to becoming a member of esteemed costuming groups The League of Heroes, The Heroes Alliance-Ohio Branch, East Coast Avengers, Costumers with a Cause, Superheroes to Kids in Ohio, and Heroic Inner Kids. Michael often works closely with local and national charity organizations as a sponsor, using his cosplay to generate support for The Make-A-Wish Foundation, Capes 4 Heroes, Putting Downs First, Angels for Animals, and many others. Michael has received numerous awards for his charitable deeds including the Outstanding Service Award from Credit Where Credit Is Due, and most notably the Presidential Volunteers Award from President Barack Obama and the White House.
Michael was born and raised in Cleveland, Ohio and now resides in Youngstown, Ohio. He is a current decorated 16-year veteran Deputy Sheriff for the Mahoning County Sheriff's Office in Ohio.
Learn more about Michael "Knightmage" Wilson by liking his Facebook Page, and following him on Twitter as @Knightmage and Instagram as @Knightmage1.