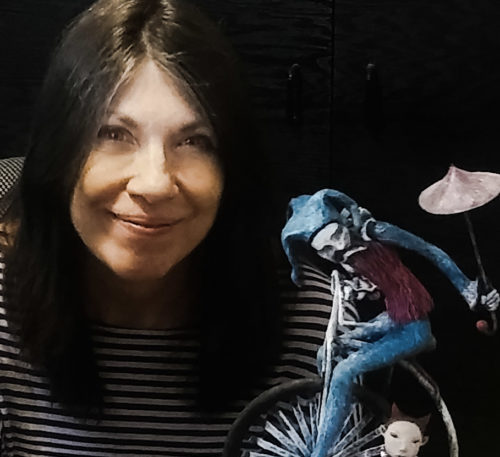 People often say that artist Lisa Snellings' work defies classification. It utilizes a wide variety of materials and techniques, mixing two and three dimensions, kinetics, and writings. Over the years, stories based on her work have been written by the likes of Larry Niven, Neil Gaiman, Peter S. Beagle, and Gene Wolfe. Although she has been creating art for as long as she can remember, her art became her career in 1990. It was then that Lisa began work on a ten-year project—a collection of large kinetic works called "The Dark Caravan." Most of the larger works were commissioned by the late Howard Frank and Jane Frank. Some of those works employed her two-inch-tall Poppets, which, on their own, are now collected all over the world.
A Poppet is a totem: a symbol for a view both childlike and wise. It's the universal child in each of us that retains a sense of wonder. Poppets watch and imitate humans. They tell stories, both wildly fantastical and deeply human. Even now, Lisa reflects that she is not sure how such a small being, with just two dots for eyes, can affect her so deeply. She continues to explore other themes and other characters, but keeps finding hew ideas for Poppet. She explains, "I've told myself that when the nine billion names of Poppet have been recorded, they will simply wink out and be no more. Or they will evolve into something else."
In the meantime, Lisa is creating a pop-up Poppet book about fear, called Night Birds, and a Poppet Tarot, both with the unique perspective of Poppet. These projects are funded by her Patreon.
Lisa grew up in the Deep South and describes her childhood as classic Southern Gothic. She left for the southern California desert and lived in Palm Springs for seventeen years, which she says was five years too long. Lisa and her family relocated to Eugene, Oregon in 2016 for the trees and the weather. It was a good decision.
Learn more about Lisa Snellings by following her on Twitter at @poppetplanetme.