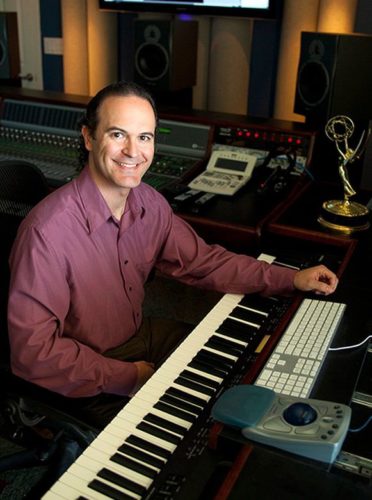 Kristopher Carter began his career as one of the youngest composers to work for Warner Bros, scoring his first episode of Batman: The Animated Series at the age of 22. He received an Emmy Award for Batman Beyond, as well as seven other Emmy nominations and three Annie Award nominations. Equally at home composing feature film scores, he has written music for films that have won awards at many prestigious international festivals, including a Gold Medal for the Best Use of Music in a Feature Film at the 2008 Park City Film Music Festival. He composed music for SiREN, the third installment of the V|H|S horror anthology, indie horror favorites Dance of the Dead and The Other Side, as well as sci-fi mystery Yesterday Was A Lie.
He made his Hollywood Bowl debut in 2001 with a commission from John Mauceri and the Hollywood Bowl Orchestra. In the record world, he has collaborated with the Wallflower's Rami Jaffee and blues guitarist Kenny Wayne Shepherd. A prolific concert composer, he has received commissions from cellist Carter Enyeart, saxophonist Robert Austin, flautist Gaspar Hoyos, and the University of North Texas Men's Chorus. He was named Commissioning Composer of the Year by the Texas Music Teachers Association and also received a fellowship to Robert Redford's Sundance Composers Institute. He served as the first Composer-In-Residence of the Bel Canto Northwest Opera Festival and has given clinics across the country on film composition.
Along with his collaborators Michael McCuistion and Lolita Ritmanis, collectively known as Dynamic Music Partners, Kristopher has created hundreds of hours of music for a variety of different genres, including TV series, independent films, video games and live performance events. Dynamic Music Partners has earned twenty-eight Emmy Award nominations and six Annie Award nominations as composers for Marvel's Avengers Assemble, Batman: The Brave And The Bold, Justice League, Teen Titans, Batman Beyond, The Zeta Project and The New Batman Superman Adventures. Other TV series they have scored include Young Justice, Ben 10, The Spectacular Spider-Man, and Kaijudo: Rise of the Duel Masters. Original concert works and suites of their scores have been performed in festivals and special events; from New York's Lincoln Center to The Hollywood Bowl, The Kennedy Center, The Griffith Observatory in Los Angeles, Tenerife – Spain and beyond, their music has received critical acclaim. Their Prime-time Emmy Award nominated musical Batman: The Brave and the Bold: Mayhem of the Music Meister, starring Neil Patrick Harris was a historic first Batman musical to ever be composed.
To learn more about Kristopher Carter and his work with Dynamic Music Partners, check out www.DynamicMusicPartners.com and Kristopher's IMDB page. You can also follow Kristopher on Twitter as @utadeer.