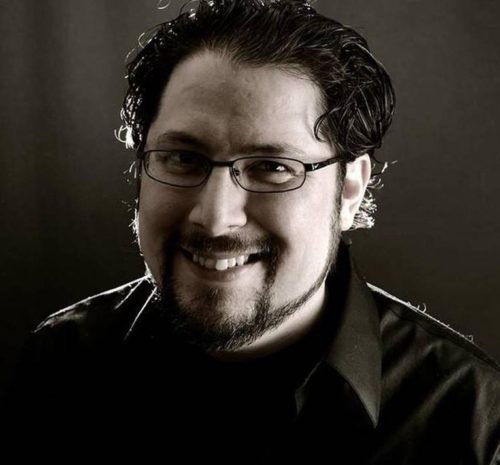 Born in Oklahoma, Jai Nitz lived in the state for all of two weeks before his family moved to the Virginia suburbs of Washington DC.  His father worked for the Federal Government and the Nitz family moved often.  From Sterling VA to Atlanta GA, Jai and his older brother developed a love for comic books. However, there were no Hispanic/Latino/Mexican characters that Jai could relate to. See, while his father was from Oklahoma, his mother was a proud Tejana from South Texas within spitting distance of the Mexican border. Even in the racially inclusive 1970s, the only Mexican superhero in mainstream media was El Dorado from Superfriends, but he wasn't even in the comics. Even so, "Create superheroes," was young Jai's immediate answer when his first grade teacher asked him what he would do with himself, and Jai spent his school days filling a notebook with his extremely serious characters like Captain Rat and Super Celery.
Jai attended the University of Kansas in lovely Lawrence KS as a Philosophy major. During his freshman year, a movie called Pulp Fiction came out that changed his life. Jai told himself, "I want to make comics the way that guy makes movies," and graduated with a Theater and Film major.  (Jai got to meet Quentin Tarantino a few years ago at Comic-Con International.  They nerded out over Deadly Hands of Kung Fu.)
He self-published his first comic, Novavolo, in 2000. Just after becoming a full-time freelancer, Jai and his partner Greg Smallwood took Dream Thief to Dark Horse Comics.  They won several awards and honors for the comic and ended up on many Top 10 lists that year.
During his tenure as a contributing writer to The Batman Strikes! with artist Christopher Jones, Jai was invited to visit the DC Comics office in New York and offered the unique opportunity to write whatever he was most passionate about. As mentioned before, the main constant in Jai's transient childhood was comic books, but he'd always been keenly aware of the lack of superhero representation for comics fans like himself. Jai, given this golden opportunity, proposed a new El Diablo series starring a new, morally challenged Chicano anti-hero, Chato Santana.
Before long, Jai, along with artist Phil Hester, had created a Latino character and elevated him to the forefront of modern superhero comics and… failed.  Miserably. In fact, El Diablo #6 is believed to be the worst-selling DC superhero comic of all time. It was an incredible surprise when writer Adam Glass took over Suicide Squad and requested El Diablo for the team. Then Oscar winner David Ayer was hired to write and direct the Suicide Squad film. Ayer was from East Los Angeles and grew up surrounded by Latinos, so he based the emotional arc of the movie around the character he recognized best: El Diablo. This led to a resurgence in DC's Chicano anti-hero, a wider and more inclusive audience, and a new interest in comics starring Jai's lovable murderous scamp.  Now, tied to the Suicide Squad franchise, Jai writes Suicide Squad Most Wanted: El Diablo and other related projects.
Like many scholars enamored with a town devoted to learning, Jai became a townie and never left Lawrence, KS, the home of the Jayhawks. He drinks in the same bars and coffee shops he haunted 23 years ago.  He eats at the same Arby's that captured his heart in 1994.  He occasionally teaches a course on comic books and storytelling at his alma mater.  His two sons were born in the same hospital room in Lawrence, albeit a few years apart.  He has lived in Lawrence longer than any other town in his life.  He writes comic books and tells stories, and he can't wait to share them with you.
Find a complete list of Jai Nitz's comic book works on the Comic Book Database Website. Follow Jai on his Facebook page and on Twitter as @JAINITZ1.