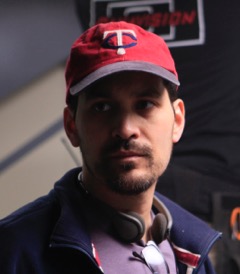 Ian Truitner is a writer, director, and producer who has brought numerous projects from concept to reality. He forged a unique path into the film industry by merging the incongruous worlds of military training and theater, having learned the technical aspects of film as a combat photographer in the U.S. Army while practicing stage craft at the University of Minnesota. By applying guerrilla tactics to filmmaking Ian became a prolific creator of numerous award-winning endeavors, including Teleios (2016), W.M.D. (2013), Expecting Love (2009), Cutting Room (2006), and Richard Roe (2001).
His latest film, the critically acclaimed Sci-Fi feature Teleios, premiered at the Sci-Fi London Film Festival and went on to win numerous international awards. Ian has contributed to projects at Warner Bros. Pictures Theatrical Marketing, Walt Disney Feature Animation, Spike TV, The Weinstein Company, GRB Entertainment, and Paramount Home Entertainment.
Ian's projects have screened or won awards at the following festivals: Cannes Film Festival, Milan International Film Festival, Fantastic Planet, Galactic Film Festival, Sci-Fi London, Palm Springs International Film Festival, Seattle International Film Festival, SXSW Eco, Telly Awards, Shriekfest, Telluride Indiefest, Sarasota International Film Festival, Hollywood Shorts, Stony Brook Film Festival, Palm Beach International Film Festival, International Independent Film Awards, Fantasmagorical Film Festival, West Fest, and New York Film and Video Film Festival.
A St. Paul native, Ian has a BA in Theater (cum laude) from the University of Minnesota and an MBA from Penn State University. He is a member of the Directors Guild of America (DGA) and BMI.
Learn more about Ian and his work on his website, www.iantruitner.com.