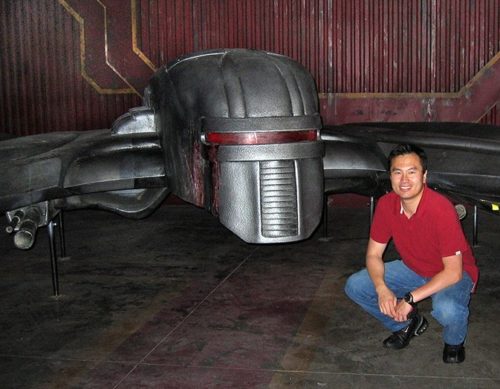 Born in Hong Kong at a very early age, Eric Chu quickly exhibited an interest in design and film. Even as a young child, directing seemed to be in his blood, but an uncooperative cast of plastic farm animals would prove to be an endless source of frustration for the young inexperienced artist and he vowed never to work with PVC again.
In the ensuing years, Eric's preoccupation with film and storytelling would manifest itself throughout his high school experience in the form of super-8 films. There, he experimented with the medium by which he would explore issues and ideas relevant to him during this stage of his life. His most politically-charged film of this period involved a G.I Joe and some leftover Halloween fireworks. From 1982-84 Eric turned his back on the industry, preferring instead to stifle his creative tendencies by enrolling in art school. During those two years at The Emily Carr College of Art, he was exposed to the world of performance art, obtuse poetry and conceptual pieces. After this profoundly formative period he decided to move on, as he was unable to keep a straight face.
Since then, Eric has been in the film and animation business for over 30 years, starting at Nelvana back in 1985. Working as a layout and storyboard artist, he became quickly known for reworking storylines to fit his own bizarre sense of humor. While in Toronto, he found himself on such projects as Droids, Beetlejuide, Captain Power, and countless others. However, working on syndicated animated shows afforded little creatively and, in pursuit of a more stimulating environment, he moved to Asia where he became involved in the local film and commercial industry there by forming Fisheye Films with a local director and producing commercials. Upon his return to Canada in 1998, Eric began working on various productions around Vancouver.
In 2002 Eric found himself doing concept designs for the new Battlestar Galactica where he was responsible for visualizing the look of the new Galactica, the Cylons, Raiders, Basestars, and consequently upset millions of die-hard fans of the original series.
Eric works out of Paranoid Delusions Inc, a Vancouver-based Design Company he founded in 1985. He describes it as "a creative studio where ideas are isolated, incubated and bred to wreak mutant havoc on the world."
Currently, he has several projects in various stages of development, including working with Anderson Entertainment on the upcoming puppet-based science fiction series, Firestorm, a return to the old Gerry Anderson shows he grew up loving as a kid—plastic toys, explosives, and all.
Learn more about Eric Chu on his studio's website, www.paranoiddelusionsinc.com, and follow him on Facebook and on Twitter as @TheCylonGod.