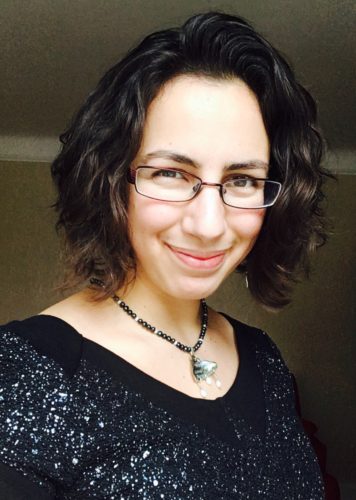 Amal El-Mohtar is an award-winning author, poet, and critic. She has written stories about djinn, iron shoes, glass hills, bird women, book women, the Arabic alphabet, singing fish, Damascene dream-crafters, sentient diamond oceans and pockets that are bigger on the inside. She's also the author of The Honey Month (2010), a collection of poetry and prose written to the taste of twenty-eight different kinds of honey.
Her short fiction has won the Nebula and Locus Awards, been shortlisted for the Hugo, World Fantasy, Sturgeon, Aurora, and Eugie Foster Awards, and has appeared in The Djinn Falls in Love & Other Stories (2017), Tor.com, The Starlit Wood: New Fairy Tales (2016), Lightspeed, Strange Horizons, and Uncanny Magazine. Her poetry has won the Rhysling Award three times and received the Richard Jefferies Poetry Prize in 2012.
An enthusiastic collaborator, Amal has written an episode for Serial Box's Bookburners, co-written a time-travelling spy vs. spy novella with Hugo-nominated author Max Gladstone, and co-founded the Banjo Apocalypse Crinoline Troubadours, an international performance collective of writers, performers, and musicians, with Caitlyn Paxson and CSE Cooney. She is also a contributor to Down and Safe: A Blake's 7 Podcast; Walkthrough, a podcast about Six to Start game The Walk; and co-editor of fantastical poetry journal Goblin Fruit with Jessica P. Wick.
As a critic, Amal writes regularly for NPR Books, Tor.Com, and Lightspeed magazine. A life-long fan of Doctor Who, she's also contributed essays to Chicks Unravel Time, Queers Dig Time Lords, and Companion Piece.
In her (few) hours of rest she lifts weights, plays the harp, writes letters to her friends by hand, and has been known to lead impromptu sing-alongs from Steven Universe and Hamilton. She lives in Ottawa with her husband and two jellicle cats.
To learn more about Amal El-Mohtar, check out her website, www.amalelmohtar.com. You can also find Amal on Twitter as @tithenai, where she is very often silly.