L.A. Banks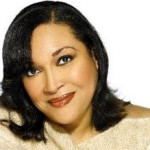 Leslie Esdaile Banks is an author many literary hats, writing Crime Thrillers under her full name, the "Soul Food" series under "Leslie E. Banks," Romances as "Leslie Esdaile," and a series of Paranormal books including her Vampire Huntress Legend series and Scarface series as "L. A. Banks."
Leslie is probably best known for her Vampire Huntress Legend series, which centers around a young twenty-something woman named Damali Richards who is a spoken word artist but is also The Neteru, a human who is born every thousand years to fight the Dark Realms. Damali's most dangerous and most constant enemy from The Dark Realms are vampires.
The entire series is based on the never ending struggle between good and evil. The Vampire Huntress Legend Series is also about the strong bonds of love in all its forms, and there is also intense subject matter involving religion within this series. The Vampire Huntress Legend Series has grown to twelve books, and the first two in the series (Minion and The Awakening), have been optioned for films by GothamBeach Entertainment and Griot Entertainment.
Her other series include:
The Crimson Moon novels (Paranormal):
Bad Blood (2008)
Bite The Bullet (2008)
Undead on Arrival (2009)
The Dark Avengers ebook series (Paranormal):
Finders Keepers (2008)
Loser's Weepers (2008)
The Soul Food series (Romance):
For Better, For Worse (2002)
Through Thick and Thin (2003)
Leslie Banks has won several literary awards, including the 2008 Essence Literary Awards Storyteller of the Year. To learn more about Leslie and her work, visit her web site at http://www.leslieesdailebanks.com/.
---
Jeremy Bulloch
Jeremy Bulloch is undoubtedly best known as the actor who played the Boba Fett in The Empire Strikes Back and Return of the Jedi. In addition to being under the helmet of everybody's favorite bounty hunter, Jeremy has appeared in three James Bond films: The Spy Who Loved Me (as HMS Ranger Crewman), For Your Eyes Only (as Q's assistant Smithers), and Octopussy (again as Smithers). He also appeared in two Doctor Who stories, the William Hartnell era episode The Space Museum (as Tor) and the Jon Pertwee story The Time Warrior (as Hal the Archer), which introduced both The Sontarans and companion Sarah Jane Smith to the series.
In 2004, Jeremy published a limited edition memoir, Flying Solo, which is a humorous account of his personal and professional life, interspersed with tales from the convention circuit. In 2005, he once again made an appearance in a Star Wars film, this time playing Captain Colton in Revenge of the Sith.
Jeremy was inducted as an Honorary Member of the 501st Legion costuming organization in May 2002, and later actually joined the 501st as a costume-wearing member making appearances with the group as Boba Fett.
Recently he played a small cameo role in Star Wars fanfilms Order of the Sith: Vengeance and its sequel Downfall – Order of the Sith – alongside David Prowse and two-time CONvergence Guest of Honor Michael Sheard. These fanfilms were made in England in support of Save the Children.
Jeremy has three sons, ten grandchildren, and lives in London with his wife, Maureen. His half brother is Robert Watts, who produced the Star Wars films.
Visit Jeremy's official site at http://www.jeremybulloch.com/.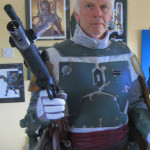 ---
Paul Cornell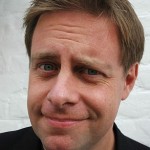 Paul Cornell is a British writer best known for his work in television drama as well as Doctor Who fiction, and as the creator of one of the Doctor's spin-off companions, Bernice Summerfield. Other popular British TV dramas to feature Paul's writing include Robin Hood, Primeval, Casualty, Holby City and Coronation Street.
Paul has also written for a number of British comics, as well as Marvel Comics in America. He has written the Fantastic Four mini-series Fantasic Four: True Story, Dark Reign: The Young Avengers, and became the keeper of the UK corner of the Marvel universe with his series Captain Britain and MI-13.
Paul's work on Doctor Who began with comics and novels, but now includes Big Finish Audio Adventures and the new Doctor Who television series, for which Paul has written two of the most popular episodes of the new Doctor Who TV series, Fathers Day (which introduced Rose's father Pete Tyler), and the two-part Human Nature/The Family of Blood which was adapted from his own 7th Doctor Novel Human Nature. A recent Doctor Who magazine poll of 6,600 fans ranked the two-parter as the sixth most popular Doctor Who story of all time!
Paul Cornell's Doctor Who Novels:
Timewyrm: Revelation
Love and War
No Future
Human Nature
Happy Endings
Goth Opera
The Shadows of Avalon
Scream of the Shalka
He has also wrote the novel "Oh No It Isn't" based on his creation, the popular Doctor Who companion Bernice Summerfield. He also edited an additional three novels in that series.
To learn more about Paul and his work, visit http://www.paulcornell.com/
---
Chuck McCann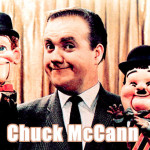 Chuck McCann's face and voice are more famous than his name, A successful comedian since the 1960's, Chuck has appeared in films, on television, on the stage, and has provided a host of familiar voices for commercials and animation.
Chuck began his career hosing comedy/variety TV puppet shows in the New York area, including The Puppet Hotel, Laurel & Hardy & Chuck, Let's Have Fun and The Chuck McCann Show. Chuck practically had a second career impersonating Oliver Hardy for commercials and other appearances, usually partnered with Jim MacGeorge as Stan Laurel. In addition to many roles as a supporting character actor, Chuck co-starred with Bob Denver in CBS's Saturday-morning sitcom Far Out Space Nuts, which he co-created. The 1970s also brought him fame in a long-running series of commercials for Right Guard anti-perspirant: he was the enthusiastic neighbor with the catch phrase "Hi guy!" who appeared on the other side of a shared medicine cabinet.
His voice-over work includes everything from Bob Kane's Cool McCool, The Thing on the The Fantastic Four and Hulk animated cartoon series, to voices for The Powerpuff Girls. His most famous cartoon voice is probably Sonny the Cuckoo Bird ("I'm cuckoo for Cocoa Puffs!") in commercials for General Mills.
Recently, Chuck made a memorable appearance in The Aristocrats (2005), with an animated rendition of a "clean" version of the "dirty" joke that serves as the movie's subject.
In 2006 & 2007 Chuck made appearances on The Radio Adventures of Dr. Floyd as Benjamin Franklin and Dr. Floyd's father. He has also made multiple appearances as a judge on Boston Legal, including the two hour series finale in December 2008.
To read more about Chuck and his work, visit his web site.
---
Wally Wingert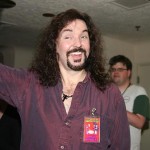 (in announcer voice) "This is Wally Wingert, live from Minneapolis/St. Paul Minnesota having a great time at CONvergence 2007! Thanks so much for everything Ladies and Gentlemen. I'll be back next year. I'll see you then!"
– Wally Wingert (2007)
Wally Wingert is a voice actor and producer who has contributed to many popular TV series, anime, films and video games. His most recent roles include Garfield's owner Jon on the new Garfield series, The Riddler in the Batman: Arkham Asylum video game, Ant-man on The Avengers: Earth's Mightiest Heroes, and he continues to contribute voices to Family Guy.
Born in Des Moines, Iowa and reared in the Great Plains of South Dakota, Wally developed a love for performing at an early age. From elementary school through High School, he kept busy writing, perfecting impersonations and developing a repertoire of characters and voices. Wally became a regular in school plays and talent shows. He also perfected his talents as a puppeteer. In 1989, Wally's parody song "Adam West" went to #1 on the Dr. Demento radio program, and Wally took a full-time position as an on-air personality at the radio station The Wave. After four years, he left the station to pursue aspirations in acting, singing and the field of voice-over full-time.
Wally's television work includes Invader Zim(Almighty Tallest Red), Family Guy(various), Astro Boy(Dr. O'Shay, Blue Knight and others), Transformers: Robots in Disguise (Sideburn, Mirage), Zatch Bell(Brago, Praying Mantis Joe), Totally Spies!(Seth), and Harvey Birdman: Attorney at Law(Astro, George Jetson and others). And soon you'll hear him in the new 'The Garfield Show" providing the voice of Jon Arbuckle and other characters. Also, a new action/sci-fi animated series called "Gormiti" has Wally playing Mr. Tripp and the evil Magmion.
Wally's anime credits include Bleach(Renji Abarai), Initial D(Nakazato Takeshi), Dinozaurs(Dino Centro & Dino Pachy), and Blood +(George and various) and Final Fantasy VII: Advent Children. He's also provided a multitude of voices in "Naruto" and "Blue Dragon."
He has also voiced characters in live action films including Scooby Doo 2: Monsters Unleashed, Batman & Robin, and animated films like Ant Bully, and the upcoming Space Chimips which will be released this July! He's also the voice of Vegas, in the new "your Vegas is showing" ad campaign.
Wally's extensive video game work includes Rusty Pete the Pirate in the new Ratchet & Clank game, Star Wars: Starfighter(Reti), Star Wars: Bounty Hunter(Bendix Fust/Jervis Glum), Maximo: Ghosts to Glory(Maximo), Maximo vs. Army of Zin(Maximo), Command & Conquer: Renegade(Nick "Havoc" Parker), Doom 3(Dr. Cloud, various), Quake 4(Marines), Battlestar Galactica, Pirates of the Caribbean On-line(Bo Beck), and Lord of the Rings: Battle for Middle Earth.
In addition to his extensive voice work, Wally has made on-camera appearances as well, including stints on Murphy Brown, Just Shoot Me, The Martin Short Show, The E! True Hollywood Story, Vicki!, and an appearance on NBC-TV's Saved By The Bell; The New Class as "Daffy" Don Lewis. In film, he's appeared in The Bogus Witch Project, Crime And Passion, Brotha'Hood, and he put in a critically acclaimed performance as Jesus Christ in the award- winning short Art Of The Deal. Recently he was interviewed by Florence Henderson on 'The Florence Henderson Show" about his extensive Adam West & Batman collection.
Wally is also a DVD producer, having overseen the recent Groovie Goolies: Saturday Mourning Collection DVD set, and the Cool McCool DVD boxed set. Wally is also the producer of the Dungeons and Dragons radio drama that appears on the on the new DVD box set of the D&D animated series. He's produced a comedy pilot called "Uncle Davver's Really Scary Movie Show" and a short film called "Livin' On a Prayer," both with former "Family Guy" and "X Files" Producer Ken Dennis.
For more information on Wally Wingert and his other projects (including The Chaney Room and his extensive work with character creation, make-up and costuming), visit his official web site at http://www.wallyontheweb.com/.
---
Bridget Landry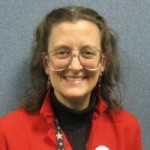 "My feet hurt, I'm exhausted, I'm dehydrated, I must have had a really great weekend."
– Bridget Landry (2006)
Bridget Landry is a deputy uplink systems engineer who works for NASA's Jet Propulsion Laboratory in Pasadena, California. Projects she has worked on include:
The joint US-French oceanographic Earth orbiter Topex
The Hubble Space Telescope
The Cassini Mission to Saturn (and supported the highly successful Huygens probe release, landing and data relay)
Bridget's favorite position so far has been on the Mars Pathfinder project, where she did a variety of jobs, from adapting software packages to the Pathfinder command set, to preparing and verifying many of the imaging commands and panoramas. Bridget says, "I'd like to get back to working on Mars, both because that's the planet I'm most interested in, and because the Mars missions are going to be 'faster, better, cheaper' missions, which I have found that I like. Riskier, but also more satisfying."
Another of Bridget's priorities is the advancement of women in technical fields, working to overcome obstacles to their success, and sparking and maintaining girls' early interest in math and scientific fields.
As is obvious to anyone who has seen Bridget during her previous visits to CONvergence, Bridget is a Master Level costumer, with a special place in her heart for Star Trek. Bridget has Masquerade awards from the local to the WorldCon level. She has served as a Masquerade judge at CONvergence 2006, 2007 and 2008.