Lois McMaster Bujold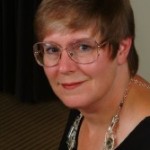 Lois McMaster Bujold is a Hugo and Nebula Award winning author of science fiction and fantasy, having won four Hugos in the Novel category, more than any other writer except for Robert A Heinlein. She is best known for her series of novels featuring Miles Vorkosigan, a severely disabled interstellar spy and mercenary admiral from planet Barrayar, a thousand years in our future. The Vorkosigan series incorporates a variety of genres, from space opera, to detective and even high-society romance.
Lois McMaster Bujold was born in Columbus, Ohio, and began reading adult science fiction at age nine, a taste she attributes to the influence of her father, engineer Robert Charles McMaster. "He was a professor of Welding Engineering at Ohio State and an old Cal Tech man," says Lois, "and used to buy the science fiction magazines and paperback books to read on the plane on consulting trips; these naturally fell to me. My reading tastes later expanded to include history, mysteries, romance, travel, war, poetry, etc."
After years spent starting her family, Lois began writing seriously in the early 1980s, completing her first novel, Shards of Honor, in 1983: the second, The Warrior's Apprentice, in 1984; and the third, Ethan of Athos, in 1985. Her first professional sale, however, came in late 1984 with the sale of a short story to Twilight Zone Magazine. It wasn't until a year later in 1985 when all three of Lois' completed novels were bought by Baen Books and published as original paperbacks in June, August, and December of the following year.
In 1987-1988, Analog Magazine serialized Falling Free, Lois' fourth novel and part of her Vorkosigan series, which would win Lois her first Nebula. "I was particularly pleased to be featured in Analog, my late father's favorite magazine," says Lois. "I still have the check stub from the gift subscription my father bought me when I was 13."
Lois won Nebula awards for Falling Free (1988), and for her novella The Mountains of Mourning (1989) she won both the Nebula and Hugo. Her other Hugo wins include The Vor Game (1990), Barrayar (1991), Mirror Dance (1994), and Paladin of Souls (2003).
Her fantasy novel The Curse of Chalion (2001) won the Mythopoeic Award for Adult Literature and was nominated for the 2002 World Fantasy Award for best novel. Her fourth Hugo was for Paladin of Souls, a sequel to The Curse of Chalion. A third book in the world of Chalion, The Hallowed Hunt, was published by Eos in June of 2005.
Lois has also edited several anthologies, starting with Women at War which she produced with Roland Green for Tor Books in 1995.
To learn more about Lois and her work, visit The Bujold Nexus, Lois's own fan-run website, at http://www.dendarii.com. Sample chapters of several of her SF titles are available at http://www.baen.com, along with a free download of the complete text of the award-winning novella The Mountains of Mourning in the Baen Free Library at http://www.baen.com/library/.
---
Brian Keene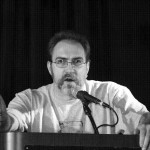 Brian Keene is a Bram Stoker Award winning horror author, first in 2001 for his non-fiction work Jobs In Hell and then again in 2003 for his debut novel, the post-apocalyptic zombie tale The Rising. Several of his books and stories are slated for film, video game and comic book adaptations.
Brian's novels include:
No Rest For The Wicked (2001)
The Rising (2003)
Fear Of Gravity (2004)
Terminal (2005)
City Of The Dead (2005)
Earthworm Gods (2005)
The Rutting Season (2006)
The Conqueror Worms (2006)
Ghoul (2007)
Dead Sea (2007)
Brian has also edited a number of anthologies including Best of Horrorfind I & II (2001/2003), and In Delirium (2006), and is assistant editor of Grave Tales magazine from Cemetary Dance Publications.
Since visiting us in 2007, Brian has written the miniseries Dead of Night: Devil Slayer for Marvel Comics, adapted his story Terminal into a play with Roy C. Booth, and is hard at work on his next novel Castaways.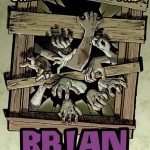 ---
Emily Hagins
Emily Hagins is the writer/director/producer/editor of the low-budget zombie film PATHOGEN, and received a grant from the Texas Filmmakers Production Fund for the post-production work on the film. This would make Emily worthy of notice on its own, but in addition to all that, she did it when she was 12 years old.
In 2007, the 14-year-old Emily Hagins was our youngest-ever Guest of Honor.
Emily was born in Philadelphia, PA and moved to Austin, TX when she was 8 months old. Since the age of about 7, she has enjoyed seeing movies multiple times in the theaters and earned the nickname in second grade of "The movie girl". At age 9 she saw THE LORD OF THE RINGS: THE FELLOWSHIP OF THE RING and was inspired to make her own movie.
Working with a camcorder, Emily made several shorts starting in the third grade, including one featuring a Care Bear assassin who targeted Barbie dolls.
In fourth grade Emily decided she wanted to make a feature film but couldn't decide on what it should be about. She began writing several screenplays and at in 2003 at age 11 Emily attended the BUTT-NUMB-A-THON film festival in Austin and saw her very first zombie movie: UNDEAD.
"I used to be scared of horror movies until then," she says. "I realized that horror movies could also be funny. I decided that I wanted to make a feature film and it was going to be a zombie movie."
By the end of May 2004, Emily had finished the screenplay and was ready to start filming. Not only did she write the screenplay and direct the film, she did the camera work, co-produced, edited the film.
Emily's middle school was used as the principal shooting location, and parents pitched in to hold boom microphones (and occasionally play flesh-eaters). Dolly shots were improvised using rolling office chairs. Summer break ended during post-production, so Emily's mother Megan helped with some post-production chores.
The filmmaker and her mother are careful not to overhype the end result. No one should go in expecting a polished feature, they insist; for outsiders, the impressive thing is simply that a filmmaker so young and with limited resources tackled such a project and saw it through.
Meanwhile, Emily is enthused about getting behind the camera again. More cannibalism and viral mutations, one wonders? "I definitely want to make other kinds of films," she insists. The only genre that doesn't appeal to her, she says, is the "chick flick."
Emily's story is an inspiration to anyone with dreams of realizing their creative ambitions. We look forward to having Emily with us at CONvergence to share her story and her film. Visit the official Pathogen web site at http://www.cheesynuggets.com.
---
Berni Wrightson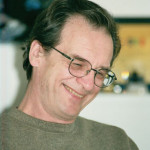 "Thank you… thank you for being so friendly and so gracious. I actually had no idea what this would be before I came. It's changed my life."
– Bernie Wrightson, Comic Book Artist and Illustrator
Legendary artist Bernie Wrightson has been creating creature artwork for over thirty years. Best known for co-creating the comic book character Swamp Thing, and for definitively illustrating Mary Shelley's Frankenstein, Bernie also collaborates regularly with author Stephen King, having illustrated The Stand, Cycle of the Werewolf, and the Dark Tower V.
Bernie began working in comics at DC Comics in 1968, providing many stories for DC's House of Mystery and House of Secrets anthology titles, before co-creating Swamp Thing (with CONvergence 2006 Guest of Honor Len Wein), which he went on to illustrate in his own title.
By 1974. Bernie had left DC to work at Warren Publishing, for whose black-and-white horror-comics magazines he produced a series of original work as well as adaptations of stories by H. P. Lovecraft and Edgar Allan Poe. In 1975, Wrightson joined with fellow artists Jeff Jones, Michael Kaluta, and Barry Windsor-Smith to form "The Studio," a shared loft in Manhattan where the group would pursue creative products outside the constraints of comic book commercialism. Though he continued to produce sequential art, Wrightson at this time began producing artwork for numerous posters, prints, calendars, and even coloring books.
Wrightson spent seven years drawing approximately 50 detailed pen-and-ink illustrations to accompany an edition of Mary Shelley's novel Frankenstein, which the artist considers among his most personal work.
Bernie also wrote and drew the sci-fi mini-series Captain Sternn, which was the basis for one of the segments of the cult-favorite Heavy Metal movie.
Bernie drew the poster for the Stephen King-penned horror film Creepshow, as well as illustrating the comic book adaptation of the film. This led to several other collaborations with King, including illustrations for the novella "Cycle of the Werewolf" and the restored edition of King's apocalyptic horror epic, The Stand. Bernie has contributed album covers for a number of bands, including Meat Loaf.
As a conceptual artist, Bernie's worked on many movies, particularly in the horror genre: well-known films include Ghostbusters, The Faculty, Galaxy Quest, Spider-man, and George Romero's Land of the Dead. Recently, Bernie did production design for the characters the Reavers in the 2005 film Serenity. Most recently, Bernie contributed creature designs for Frank Darabont's screen adaptation of Stephen King's The Mist.
Today, Bernie resides in Los Angeles with his wife Liz, where he works both on film designs and his own pet projects, including comic books, character designs for animation, and creepy drawings just for fun!
Visit Bernie's official website at http://www.wrightsonart.com/.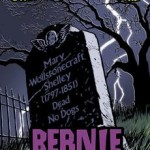 ---
Wally Wingert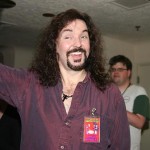 (in announcer voice) "This is Wally Wingert, live from Minneapolis/St. Paul Minnesota having a great time at CONvergence 2007! Thanks so much for everything Ladies and Gentlemen. I'll be back next year. I'll see you then!"
– Wally Wingert (2007)
Wally Wingert is a voice actor and producer who has contributed to many popular TV series, anime, films and video games. His most recent roles include Garfield's owner Jon on the new Garfield series, The Riddler in the Batman: Arkham Asylum video game, Ant-man on The Avengers: Earth's Mightiest Heroes, and he continues to contribute voices to Family Guy.
Born in Des Moines, Iowa and reared in the Great Plains of South Dakota, Wally developed a love for performing at an early age. From elementary school through High School, he kept busy writing, perfecting impersonations and developing a repertoire of characters and voices. Wally became a regular in school plays and talent shows. He also perfected his talents as a puppeteer. In 1989, Wally's parody song "Adam West" went to #1 on the Dr. Demento radio program, and Wally took a full-time position as an on-air personality at the radio station The Wave. After four years, he left the station to pursue aspirations in acting, singing and the field of voice-over full-time.
Wally's television work includes Invader Zim(Almighty Tallest Red), Family Guy(various), Astro Boy(Dr. O'Shay, Blue Knight and others), Transformers: Robots in Disguise (Sideburn, Mirage), Zatch Bell(Brago, Praying Mantis Joe), Totally Spies!(Seth), and Harvey Birdman: Attorney at Law(Astro, George Jetson and others). And soon you'll hear him in the new 'The Garfield Show" providing the voice of Jon Arbuckle and other characters. Also, a new action/sci-fi animated series called "Gormiti" has Wally playing Mr. Tripp and the evil Magmion.
Wally's anime credits include Bleach(Renji Abarai), Initial D(Nakazato Takeshi), Dinozaurs(Dino Centro & Dino Pachy), and Blood +(George and various) and Final Fantasy VII: Advent Children. He's also provided a multitude of voices in "Naruto" and "Blue Dragon."
He has also voiced characters in live action films including Scooby Doo 2: Monsters Unleashed, Batman & Robin, and animated films like Ant Bully, and the upcoming Space Chimips which will be released this July! He's also the voice of Vegas, in the new "your Vegas is showing" ad campaign.
Wally's extensive video game work includes Rusty Pete the Pirate in the new Ratchet & Clank game, Star Wars: Starfighter(Reti), Star Wars: Bounty Hunter(Bendix Fust/Jervis Glum), Maximo: Ghosts to Glory(Maximo), Maximo vs. Army of Zin(Maximo), Command & Conquer: Renegade(Nick "Havoc" Parker), Doom 3(Dr. Cloud, various), Quake 4(Marines), Battlestar Galactica, Pirates of the Caribbean On-line(Bo Beck), and Lord of the Rings: Battle for Middle Earth.
In addition to his extensive voice work, Wally has made on-camera appearances as well, including stints on Murphy Brown, Just Shoot Me, The Martin Short Show, The E! True Hollywood Story, Vicki!, and an appearance on NBC-TV's Saved By The Bell; The New Class as "Daffy" Don Lewis. In film, he's appeared in The Bogus Witch Project, Crime And Passion, Brotha'Hood, and he put in a critically acclaimed performance as Jesus Christ in the award- winning short Art Of The Deal. Recently he was interviewed by Florence Henderson on 'The Florence Henderson Show" about his extensive Adam West & Batman collection.
Wally is also a DVD producer, having overseen the recent Groovie Goolies: Saturday Mourning Collection DVD set, and the Cool McCool DVD boxed set. Wally is also the producer of the Dungeons and Dragons radio drama that appears on the on the new DVD box set of the D&D animated series. He's produced a comedy pilot called "Uncle Davver's Really Scary Movie Show" and a short film called "Livin' On a Prayer," both with former "Family Guy" and "X Files" Producer Ken Dennis.
For more information on Wally Wingert and his other projects (including The Chaney Room and his extensive work with character creation, make-up and costuming), visit his official web site at http://www.wallyontheweb.com/.
---
John Kovalic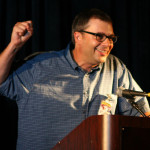 "CONvergence is really, really something special. A fantastic convention… so I was at a cabana party at 4 o'clock in the morning. That was not a storm earlier, that was angels crying because CONvergence is over."
– John Kovalic (2007)
John Kovalic is probably best known for his Origins and Eisner award-nominated Dork Tower comic book, which he has been writing and drawing since June 1998. Dork Tower exists in several incarnations, including a bi-montly comic published by Dork Storm Press, a monthly comic strip in Dragon magazine, Scrye magazine, and GAMES magazine, and online three times a week at GameSpy.com.
In John's own words, "Dork Tower is for anybody who's ever played Dungeons and Dragons, who's ever gone to a Star Trek convention, anyone who suspects that Anime is more than just a passing fad, or anyone who KNOWS one of these people. But it's really for people who know what saving rolls you need to make against a level III Demon, which Classic Trek episodes involved the Prime Directive (and who were the directors), and the names of six minor characters and a dog in the Bubblegum Crisis."
John also produces the comic series SnapDragons(with Liz Rathke) and Dr. Blink: Superhero Shrink (with Christopher Jones and Melissa Kaercher). His editorial cartoons have appeared in the New York Times and Washington Post, and he continues to freelance for Milwaukee's Daily Reported and his hometown Wisconsin State Journal (Madison, WI).
In addition to his comics work, John is co-owner and co-founder of Out of the Box Games, whose Apples to Apples has sold more than two million copies. He's also a best-selling and prolific freelance game illustrator (Munchkin, Chez Geek, Mag*Blast).
John is a dual national of Great Britain and the United States, currently living in Wisconsin. In John's free time, he searches for free time. To learn more about John Kovalic and his work, visit http://archive.gamespy.com/comics/dorktower.