J.G. Hertzler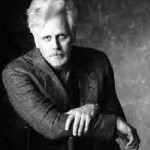 When auditioning for the role of General Martok for Star Trek: Deep Space Nine, John Garman Hertzler was told by the casting director to show more anger so he threw a chair at a wall. The display cost him a thumbnail, but won him the role.
J.G. is one of only four actors to play seven different characters on Star Trek. His first Star Trek appearance was as the Vulcan Captain of the USS Saratoga in the Star Trek: Deep Space Nine premiere episode. In addition to his role as General Martok, John's other Star Trek characters include Roy Rittenhouse and Laas in Star Trek: Deep Space Nine, a Hirogen hunter in Star Trek: Voyager and Kolos and a Klingon captain in Enterprise).
Previously J.G.'s career has included some forty episodes of The New Zorro for the Family Channel where he starred as Zorro's evil nemesis, Alcalde Ignacio Desoto. Other TV and film appearances include episodes of Quantum Leap, Highlander, Lois and Clark, General Hospital and One Life to Live. J.G's film credits include And Justice For All with Al Pacino, Prophecy 3, and Treasure Island.
On the stage, J.G.'s career has spanned the United States from Broadway to Los Angeles, appearing in over fifty Shakespearean productions at the Guthrie, ACT in San Francisco, The Folger Theatre and festivals from Maine to New Jersey to California.
---
Robert O'Reilly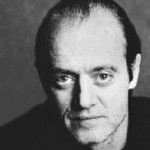 Robert O'Reilly's appearances on the last season of Star Trek: Deep Space Nine marked a decade of work on Star Trek. O'Reilly's first appearance on Star Trek: The Next Generation was in the episode "Manhunt" in which he portrayed the gangster "Scarface." He is much better known for his recurring role as the Klingon leader Gowron, first seen in the episode "Reunion."
Robert has appeared in over 100 films, made-for-TV movies, and television episodes, including the The Mask starring Jim Carrey, NYPD Blue and two seasons on In the Heat of the Night and Dark Justice. He has also appeared on The Flash, Hill Street Blues, Max Headroom, The Equalizer, Sledgehammer, MacGyver, and many more.
Robert has also enjoyed an accomplished career in theater, appearing in works of Shakespeare (King Lear and Hamlet) and Sam Shepard (True West). He is proud to have starred in the original productions of The Martian Chronicles and Fahrenheit 451 (plays written by and based on the books by Ray Bradbury, who has since become a friend).
In 1981, Robert was nominated by the Los Angeles Drama Circle for Best Director of the Year for his own production of Marsha Norman's Getting Outi, and has since won or been nominated for every other major directing award the Los Angeles area has to offer.
---
Miles Teves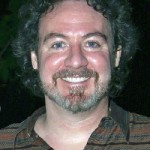 Miles Teves is a painter and a sculptor working as a conceptual designer for film, television, and computer games. A child of the 60's and 70's, Miles was raised on a steady stream of pop-culture including Godzilla, Batman, Star Trek, Whacky Packages, Plop Magazine, old horror and sci-fi films and Monty Python. He began working in the Hollywood entertainment industry in 1984 and has been at it ever since.
In a stroke of fate Rob Bottin hired the young artist to work as a concept illustrator on a landmark fantasy film called Legend. Over the next couple of years, Miles provided character concept art for Explorers, Robocop, The Witches of Eastwick, and Total Recall.
After some time spent pursuing work in the computer game field, Miles returned to conceptual design for film. Since then he has worked on a number of projects including a large number of popular genre films including the following:
INTERVIEW WITH A VAMPIRE (Stan Winston Studio – Concept Artist/ Sculpture)
BATMAN FOREVER (Warner Bros. – Design and sculpture of – "Robin costume")
MEN IN BLACK (Rick Baker's Cinovation – Character Concept Artist)
BATMAN & ROBIN (Warner Bros. – Concept Artist- Costumes)
BLADE (Cannom Creations – Art Director/Character design)
STUART LITTLE (Sony Imageworks – Character Artist)
THE MUMMY (I.L.M. – Character Artist)
GALAXY QUEST ( I.L.M. – Conceptual Artist)
PLANET OF THE APES (20th Century Fox – Concept Artist)
SPIDER-MAN (Sony Pictures – Concept Artist)
MEN IN BLACK 2 (I.L.M. – Concept Artist)
TERMINATOR 3 (Universal – Concept artist/Storyboards)
BULLET PROOF MONK (Captive Audience – Makeup sculptor)
PIRATES OF THE CARIBBEAN (Disney – Visual Development)
VAN HELSING (Universal – Character Concept Artist)
THE PASSION OF THE CHRIST (Icon – Concept Artist/Storyboards)
CHRONICLES OF RIDDICK (Universal – Concept Artist/Sculptor)
KING KONG (Universal/WETA – Concept Artist/Sculptor)
GHOST RIDER (Sony Pictures – Concept Artist)
To learn more about Miles Teves and his work, visit his web site at www.milesteves.com.
---
Greg Weisman
– Greg Weisman (2006)
A former English composition and writing teacher, Greg has been a story-teller all his life, working as an Associate Editor and Freelance Writer for DC Comics, where he wrote Captain Atom and other titles.
Greg worked at Walt Disney Television Animation from 1989 until 1996, rising through the ranks to become the Director of Series Development for the division. Greg worked on such diverse properties as Darkwing Duck, Gummi Bears, Tail Spin, Bonkers, Raw Toonage, Duck Tales the Movie, Aladdin the Series and The Mighty Ducks, among others.
In 1991, Greg and his team created and developed a new series for Disney: GARGOYLES. Greg left his position as an executive to become the Supervising Producer and Supervising Story Editor of the first 66 episodes of that series. In 1996, Greg left Disney for DreamWorks Television Animation, where he also developed numerous series.
In October of 1998, Greg left DreamWorks to become a full-time Freelance Writer, Story Editor, Producer and Voice Director. He has written scripts for Men In Black, Disney's Hercules, Big Guy & Rusty the Boy Robot, Max Steel, Roughnecks: The Starship Troopers Chronicles, Buzz Lightyear of Star Command, The Mummy, Kim Possible, The Batman, Alien Racers and Bionicle: Mask of Light, among others.
Greg voice directed the original DVD Movie, Atlantis: Milo's Return and the English dub of the Japanese anime video series 3X3 Eyes. He also produced and story edited the second season of W.I.T.C.H. for Disney and SIP Animation.
In 2006, Greg oversaw the return of Gargoyles when he began writing the Disney's Gargoyles comic book series published by Slave Labor Graphics. The first issue of the bi-monthly book sold out its initial print run. A Gargoyles spin-off entitled Bad Guys is a six-issue limited series debuted in Winter 2007. Again written by Greg Weisman, Bad Guys features the adventures of Gargoyles villains Hunter, Dingo, Matrix, Yama and Fang on a mission for good, somewhat in the mold of the Dirty Dozen. He is also developing a new "Red Tornado" series for DC Comics.
CONvergence 2008 Guest of Honor Greg Weisman recently announced the culmination of over a year's-worth of work on a new animated series for the KidsWB, "THE SPECTACULAR SPIDER-MAN," where Greg acts and Supervising Producer/Writer. This new Spidey series aired a one hour premier on March 8th. To see trailers and find out when you can catch the web-slinger in action on the series' website.
Most recently he has served as the Supervising Producer of The Spectacular Spider-Man, and is curently producing the upcoming Young Justice animated series.
Greg has a wife, Beth, and two kids, Erin and Benny, two cats, Iggy and Bigtime and two basset hounds, Abraham and Sami.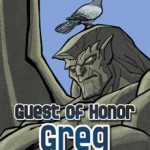 ---
David Weber
– David Weber (2006)
David Weber is often compared to C.S. Forester (the celebrated creator of Captain Horatio Hornblower) and is the recipient of the sort of critical praise once reserved for a Heinlein or an Asimov. His novels range from epic fantasy (Oath of Swords, The War God's Own) to breathtaking space opera (Path of the Fury, The Armageddon Inheritance) to military science fiction with in-depth characterization
David's most popular and enduring character is Honor Harrington who first appeared in the 1993 novel On Basilisk Station.
Of his creation, David Weber said this: "If I had to pick the three characteristics which I think are most central to who Honor Harrington is and to the reason readers respond to her so positively, those characteristics would be responsibility, compassion, and loyalty. She is not a 'safe' person. She has a ferocious temper which it is very dangerous to arouse, but that dangerous side of her personality is controlled and focused by her sense of compassion and her willingness to assume responsibility for fixing problems, whoever created them. It doesn't matter to Honor whether or not a problem is 'her fault.' What matters to her is that there is a problem which needs to be solved, and she digs in to do just that."
In addition to his own Honor Harrington novels, David has edited collections of short stories by himself and other authors set in the "Honorverse."
David's other novels include the Heirs of Empire series, the War God series, The Safehold Series, and novels including Old Soldiers, path of the Fury, and The Excalibur Alternative.
David has also written a series of novels under the title Empire of Man in collaboration with novelist John Ringo.
David has collaborated with other authors including Stive White, David Drake, S. M. Stirling, and CONvergence Guest of Honor Eric Flint, with whom he worked on the novels Warmasters, 1633, and Crown of Slaves.
To learn more about the work of David Weber, visit his page at the Baen Books website: http://www.baen.com/author_catalog.asp?author=DWeber
Many of Weber's books are available online, either in their entirety as part of the Baen Free Library or, in the case of more recent books, in the form of sample chapters (typically the first 25% or third of the work). Weber's publisher, Baen Books, is a pioneer in the sale of books in various electronic formats and all the linked titles below can be downloaded for payment if they are not available for free.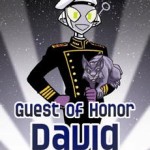 ---
Bridget Landry
– Bridget Landry (2006)
Bridget Landry is a deputy uplink systems engineer who works for NASA's Jet Propulsion Laboratory in Pasadena, California. Projects she has worked on include:
The joint US-French oceanographic Earth orbiter Topex
The Hubble Space Telescope
The Cassini Mission to Saturn (and supported the highly successful Huygens probe release, landing and data relay)
Bridget's favorite position so far has been on the Mars Pathfinder project, where she did a variety of jobs, from adapting software packages to the Pathfinder command set, to preparing and verifying many of the imaging commands and panoramas. Bridget says, "I'd like to get back to working on Mars, both because that's the planet I'm most interested in, and because the Mars missions are going to be 'faster, better, cheaper' missions, which I have found that I like. Riskier, but also more satisfying."
Another of Bridget's priorities is the advancement of women in technical fields, working to overcome obstacles to their success, and sparking and maintaining girls' early interest in math and scientific fields.
As is obvious to anyone who has seen Bridget during her previous visits to CONvergence, Bridget is a Master Level costumer, with a special place in her heart for Star Trek. Bridget has Masquerade awards from the local to the WorldCon level. She has served as a Masquerade judge at CONvergence 2006, 2007 and 2008.
---
Kenneth Hite
– Kenneth Hite, (2006)
Kenneth Hite discovered roleplaying in the summer of 1979, and has been GMing almost continuously since that October. He has written extensively for Steve Jackson Games' GURPS system, including GURPS INFINITE WORLDS, GURPS ALTERNATE EARTHS 1 and 2, GURPS CABAL, GURPS HORROR, and GURPS WWII: WEIRD WAR II.
Kenneth has also enjoyed a long association with the Star Trek role playing license, contributing to the STAR TREK: THE NEXT GENERATION and Original Series STAR TREK roleplaying games for Last Unicorn Games, and the STAR TREK ROLE PLAYING GAME for Decipher, including writing the STARFLEET OPERATIONS MANUAL.
All told, he has won three Origins Awards and designed, written, or co-authored more than seventy RPG books, including MAGE: THE SORCERER'S CRUSADE, VAMPIRE: MYTHOLOGIES, NEPHILIM, THE CAINITE HERESY, and WILD TALENTS. His latest works include DUBIOUS SHARDS, ADVENTURES INTO DARKNESS, and TRAIL OF CTHULHU.
Kenneth writes the "Suppressed Transmission" column for Pyramid Magazine, which has been collected into the volumes Suppressed Transmission: The First Broadcast and Suppressed Transmission 2: The Second Broadcast, as well as the "Out of the Box" review column for the GamingReport and the "Tour de Lovecraft" for Weird Tales.
We are told Kenneth's weaknesses include atomic radiation, sonic cannons, and vodka tonics. Kenneth has been a lifelong Chicago native ever since he moved there from Oklahoma City in 1988. His mate Sheila will avenge his death.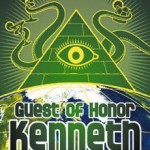 ---
Eric Flint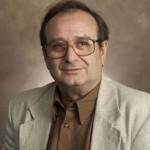 Eric Flint is an author of alternate history and science fiction, and humorous fantasy adventures, in addition to being an editor and e-publisher.After winning the 1993 Writers of the Future contest, Eric published his first novel in 1997 and moved to full time writing in 1999.
Shortly afterwards, he became the first librarian of the Baen Free Library and a prominent anti-copy protection activist, which stance he's continued. Additionally, he has been editing the works of several classic SF authors, repackaging their short stories into collections and fix-up novels. The resulting story collections have been commercially successful and have succeeded in returning out-of-print authors to print.
In 2004, faced with a persistent drain on his time by fan-fiction authors seeking comment on the four-years-old 1632 Tech Manual web forum focused on his 1632 series, he suggested to Jim Baen the experimental serialized fan-fiction e-zine The Grantville Gazette which also found commercial success. Four of the Gazette magazine editions were collated into anthology formats, bought by Jim Baen and brought out in either hardcover or paperback or both formats. Subsequently, Flint became editor of the new Jim Baen's Universe science-fiction e-zine while concurrently remaining a creative writer bringing out three to five titles per year. After the death of Jim Baen due to a stroke and after completing the contract for the tenth Grantville Gazette, Flint founded a new website "grantvillegazette.com" which is not only continuing to bring out The Grantville Gazettes, but increasing the publishing rate from four per year to bimonthly while paying better than standard magazine pay rates and is modeled on the JBU e-zine.
Eric's own writing includes a number of popular series written solo or in collaboration with other authors.
The Belisarius Series written in collaboration with David Drake began with An Oblique Approach in 1998, and is an epic series involving eugenics programs, time travel, and alternate timeines.
The Assiti Shards series includes Eric's popular 1632 and its sequels and spin-offs, telling the story of the inhabitants of a small town in the USA who find themselves transported back to Central Germany in the late spring of 1631 with no way back.
Eric has also contributed to the Heirs of Alexandria series with Dave Freer and Mercedes Lackey, the Rats Bats and Vats series, also with Dave Freer, and has written stories for David Weber's Honor Harrington universe.