Neil Gaiman
Creator/Writer of Sandman, and Neverwhere, writer of comics, TV, short stories, and novels
Introduction and personal perspective by Jeremy Stomberg…
I didn't take the bullet for Neil.
Maybe I should be more clear. There was no bullet in the first place, so there was no need for me, standing next to Neil at his appearance at DreamHaven Books last September, to take this non-existent bullet. But he told the crowd of about 200 that if there were any bullets heading his way that I was the one that would jump in front of said bullet, thus saving his life, and more importantly, the signing. Wouldn't be fair to those further back in line if Neil were unable to continue, would it?
Neil Gaiman know a lot about a lot. When he writes about a person, place, thing or idea, he gets a big stack of information about it and tries to know it inside and out. Therefore, he's able to make you think he's known this person or lived in this place for an exceedingly long time, and he knows them better than they know themselves. He's able to take you on a walk through present-day London or the Baghdad of a thousand years ago. He can let you meet Augustus Caeser, Emperor Norton I, or William Shakespeare.
Most widely known for his Sandman series for DC/Vertigo Comics, Neil has also written the BBC miniseries Neverwhere, and a novel based on that miniseries. He has written two short story anthologies (Angels and Visitations and Smoke and Mirrors). He has written two version – illustrated and non-illustrated ("For people who aren't mature enough to read books with pictures", he says) – of Stardust, as well as a Babylon 5 episode, a Duran Duran biography, and numerous comic book scripts, chapbooks and short stories. He has also scripted Disney's English-language version of the Anime film Princess Mononoke.
Neil's also a great storyteller in person, whether he's reading one of his woks of fiction or telling an aghast crowd how Morpheus is packing heat in the latest draft of the Sandman film. His convention panels are always lively, and he'll answer any question put to him with humor and sincerity.
Not only that, but he does a mean Harlan Ellison impression.
Neil Gaiman (Partial) Bibliography
Novels and Anthologies
Good Omens
by Neil Gaiman, Terry Pratchett, David Frampton (Illustrator)
Stardust
by Neil Gaiman
Neverwhere
by Neil Gaiman
Smoke and Mirrors : Short Fictions and Illusions
by Neil Gaiman
Television
Day of the Dead (Babylon 5 script)
by Neil Gaiman
Comics
The Sandman : The Dream Hunters
by Neil Gaiman, Yoshitaka Amano (Illustrator)
The Sandman : The Wake
by Neil Gaiman, Michael Zulli (Illustrator), Jon J. Muth (Illustrator), Charles Vess, Dave McKean (Contributor), Johm J. Muth (Contributor)
Black Orchid
by Neil Gaiman, Karen Berger (Editor), Dave McKean (Illustrator)
The Books of Magic (Vertigo / DC Comics)
by Neil Gaiman, John Bolton, Scott Hampton, Roger Zelazny (Introduction), Bob Kahan (Editor)
Death : The High Cost of Living
by Neil Gaiman, Chris Bachalo, Mark Buckingham (Contributor), Dave McKean
Death : The Time of Your Life (Death)
by Neil Gaiman, Mark Buckingham (Contributor), Mark Pennington (Contributor)
Children's
The Day I Swapped My Dad for 2 Goldfish
by Neil Gaiman, Dave McKean (Illustrator)
---
Peg Kerr
Peg Kerr has written two novels; Emerald House Rising and The Wild Swans (an original novel based on the fairy tale by Hans Christian Andersen).
The Wild Swans has been nominated for the Gay, Lesbian, and Bisexual Book Award for it's "writing quality and the originality Kerr employed in using a fairy tale to discuss a modern issue of concern (AIDS)."
The SF Web Site, the Internet host for Asimov's Magazine of Fantasy and Science Fiction, called The Wild Swans "an unexpected masterpiece" and ranked it as the fourth best novel of 1999. See for yourself at http://www.sfsite.com/columns/best00.htm.
Peg Kerr is a Chicago native and has lived in Minnesota since moving here to attend St. Olaf College. Peg's short fiction has appeared in Amazing Stories, Fantasy and Science Fiction, Weird Tales, and other magazines and anthologies. Peg has an M.A. in English Literature, is an alum of the Clarion Writers Workshop, and presently lives in Minneapolis with her husband and two daughters.
(Partial) Bibliography:
Novels
| | |
| --- | --- |
| | Emerald House Rising, Warner Aspect, June 1997. |
| | The Wild Swans, Warner Aspect, April 1999. |
Short Fiction
"Analog Anniversary." Tales of the Unanticipated. Winter/Spring/Summer 1991, Number 8.
"Athena Keramitis." Fantasy & Science Fiction. February 1991. Vol 80, No. 2.
"Curses." Amazing Stories. July 1990. Vol 65, No. 2.
"Debt in Kind." Weird Tales. Fall 1990. Vol. 52, No. 1.
"Free Day." Tales of the Unanticipated. Spring 1987, Number 2.
"Lethe." Full Spectrum 3. Lou Aronica, Amy Stout, and Betsy Mitchell, eds. New York: Doubleday, 1991.
"Miss Pemberly." Pulphouse: The Hardback Magazine. Issue Three, Spring 1989.
"Treefall." Tales of the Unanticipated. Winter/Spring 1988, Number 3.
"Us Do Part." Pulphouse: The Hardback Magazine. Issue Four, Summer 1989.
"Watching." Tales of the Unanticipated. Spring/Summer 1989, Number 5.
---
Regina Pancake
"Where does he get those wonderful toys?"
– The Joker, Batman
While he didn't get them from Regina Pancake, some of his enemies did. Regina is in the business of building those wonderful toys and models and gizmos and props of all kinds. CONvergence 2000 was proud to welcome Regina Pancake as a Guest of Honor.
Regina is the co-owner of Applied Effects, and has years of experience building some of the "wonderful toys" in some of the biggest science fiction productions on film and television.
With her previous company Proper Effects and as co-owner of her current business, Applied Effects, she has produced props for Star Trek:The Next Generation including the Sword of Kahless.
Regina and her studio have created original props for all the Star Trek movies beginning with Star Trek VI: The Undiscovered Country, for Ripley's latest adventure in Alien Resurrection, and created weaponry and armor for Starship Troopers.
She even helped to equip Jim Carrey's Riddler in Batman Forever.
Recently, Regina has been finishing work on the weaponry that will be seen the upcoming Arnold Schwarzenegger picture, On The Sixth Day. She also has props appearing in Paul Verhoeven's recently completed Sci-fi movie, The Hollow Man.
---
Keith Topping
British author Keith Topping began his writing career contributing to British TV Fanzines in the 1980s, and has gone on to become a prolific author of articles and program guides (or "programme guides" in deference to the British spelling), and has written a number of Doctor Who novels.
His articles on Science Fiction and television have appeared in a variety of magazines including Dreamwatch, Cult TV, SFX, 625, Circus and The Mag.
Keith's numerous programme guides (written in collaboration with Paul Cornell and Martin Day) include:
Classic British TV (1st & 2nd editions)
Doctor Who – The Discontinuity Guide
The New Trek Programme Guide
X-Treme Possibilities
The Avengers Dossier
His newest programme guide (Slayer: The totally cool unofficial guide to Buffy) is already out in Britain and will hit US shelves in May.
He has had two Doctor Who novels published, written with Martin Day:
Doctor Who – The Devil Goblins from Neptune
Doctor Who – The HollowMen
The King of Terror, his Fifth Doctor/Tegan/Turlough book is set for release in January of 2001.
---
Go To Hell's Cast & Crew
The product of years of work, with the St. Paul Cathedral sitting in for Vatican City, "Go To Hell!" was the best low budget action-comedy film about religion, tabloid journalism, wrestling, assassination, and the Marquis de Sade to come out of the Twin Cities in 1999.
Writer-Director Michael Heagle and star Rock & Roll Ray were just two of the many folks that worked on this film that were at CONvergence 2000 offering panels on low-budget filmmaking, computer effects, and other topics relating to independent filmmaking today.
---
Ruth Thompson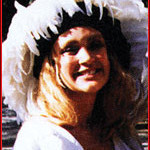 CONvergence welcomes Ruth Thompson back. This former Guest of Honor from 2000 loves art. Her passion took off at a science fiction convention in Alabama, where her sister and her "knight" made her sell her first fantastic drawings in the art show. "To this day the girl, who is now a much older (!!!) woman, still insists that it was the best $46 she ever made." She committed to art when she became a professional in 1990, creating fantasy illustrations for collectible card games, magazines, board games, books, role-playing games and prints for companies such as Royal Fireworks Press, Wizards of the Coast (for Magic the Gathering), Dragon Magazine, Palliard Press, Steve Jackson Games, Excalibur Hotel, Hot Topic, The Franklin Mint, and more.
She discovered early on that she worked best as an independent artist and started her own company, Tarnished Images, in 1991. Her business has grown from matting artwork in a college dorm room to a 3,500 square-foot retail location with eight full-time employees. Then in 1994 Ruth discovered the world of Renaissance Faires, the second love of her life. Because of these events her work can be seen from Arizona to New York, any month of the year in over 20 states and at 14 different Festivals. Look for her work in our art show.
For more information on Ruth Thompson and her work, check out her web site at http://www.tarnishedimages.com.