If you volunteered even just one hour of your time for CONvergence 2017: To Infinity & Beyond, you are invited to join the CONvergence Convention Committee at 2017 Volunteers Party!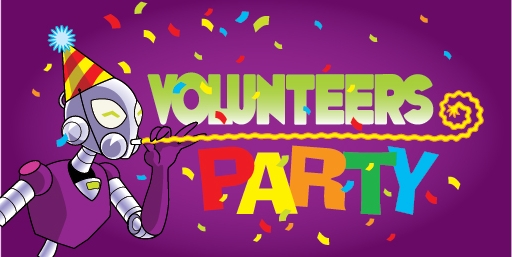 Snacks including mini pork bites, grilled veggie sliders, caprese skewers, fruit, cheese, cookies, and non-alcoholic beverages will be provided free for all CONvergence 2017 volunteers from 7:30pm until 9:00pm or until gone, and the hotel will have a cash bar. The hotel pool and hot tub will be open for all to enjoy and there will be a cabana changing room available. Also in the cabana rooms there will be an informal music circle. Please feel free to share some tunes or just hang out and watch.
So bring your swimsuit, bring your instrument, bring a game to play, bring CONvergence 2017 stories to share, and most importantly, bring yourself!
When: Saturday, July 29, 2017, 7:00pm until 11:00pm
Where: DoubleTree by Hilton Bloomington
Why: Because it's fun to party with CONvergence volunteers, of course!
Click Here to join the Facebook event.
Get Your Volunteer Thank You Gifts
If you didn't have a chance during CONvergence 2017 to pick up your volunteer t-shirt, uber volunteer reward, or other CONvergence 2017 Volunteer Thank You Gifts, you will be able to do so at the Volunteers Party!
Additionally, if you forgot to turn in your volunteer card at CONvergence 2017, you can either bring it to the party before 9:00pm or scan or snap a good, readable photo of it and send the file to [email protected]
Prize Drawings
CONvergence 2017 members with 10 or more CONvergence 2017 volunteer hours logged are eligible to enter the Volunteer Raffle for one of the following awesome prizes! You need not be present to win. Winners will be drawn during the party and prizes may be picked up until 9:00pm if you are present. If you are not present, we will contact you and make arrangements to get you your prize.
Anime Geek: Sailor Moon Spiral Heart Moon Rod Prop Replica
Board Game Geek: Package of 7 Board Games courtesy of Catan Studio, Days of Wonder, Fantasy Flight Games, Plaid Hat Games, Space Cowboys, and Windrider Games.
CONvergence Geek: A guaranteed room at the DoubleTree for CONvergence 2018! Skip the hotel lottery! Note: This prize only guarantees that you will receive a room at the DoubleTree. It does not include the cost of the hotel room.
Genealogy Geek: One Health + Ancestry Service Kit from 23andMe
Star Trek Geek: Set of two Star Trek: The Next Generation Bluetooth® ComBadges
Star Wars Geek: BB-8 Life-Size LED Floor Lamp
Video Game Geek: PlayStation 4 Slim 1TB Console & Star Wars Battlefront Ultimate Edition
Word Geek: Ncore Retro Mechanical Keyboard
See pictures of all of the prizes on the Volunteer Raffle page!
In addition to the prizes listed above, we will hold drawings for many, many other door prizes. You need not be present to win some of them, but others are just for people who stick around!
We hope to see you at the CONvergence 2017: To Infinity & Beyond Volunteers Party. It should be a blast! If you have any questions about volunteering at CONvergence, Volunteer Thank You Gifts, or the Volunteer Raffle, please contact the CONvergence Volunteers Department.