If you volunteered even just one hour of your time for CONvergence 2016, you are invited to join the CONvergence Convention Committee at 2016 Volunteers Party!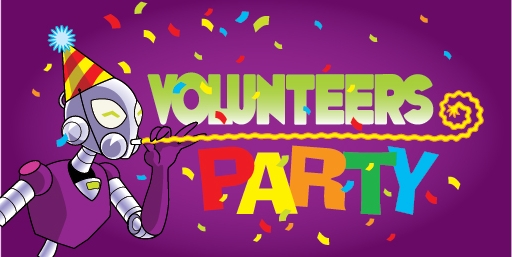 Snacks and non-alcoholic beverages will be provided free for all CONvergence 2016 volunteers, and the hotel will have a cash bar. The hotel pool and hot tub will be open for all to enjoy and there will be a changing room available. Bring your swimsuit, bring a game to play, bring CONvergence 2016 stories to share, and most importantly, bring yourself!
When: Saturday, July 23, 2016, 7:00pm until 11:00pm
Where: DoubleTree by Hilton Bloomington
Why: Because it's fun to party with CONvergence volunteers, of course!
Get Your Volunteer Perks
If you didn't have a chance during CONvergence 2016 to pick up your volunteer t-shirt, uber volunteer reward, or other CONvergence 2016 volunteer perks, you will be able to do so at the Volunteers Party!
Additionally, if you forgot to turn in your volunteer card at CONvergence 2016, you can either bring it to the party before 9:00pm or scan or snap a good, readable photo of it and send the file to [email protected]
Prize Drawings
CONvergence 2016 members with 10 or more CONvergence 2016 volunteer hours logged are eligible to enter a prize pack drawing for one of the following awesome prizes! You need not be present to win. Winners will be drawn during the party and prizes may be picked up until 9:00pm if you are present. If you are not present, we will contact you and make arrangements to get you your prize.
Up All Night Prize: 4 cases (48 bottles) of True Stone Coffee Roasters' Cool Brew!
Date Night Prize: 2 tickets to Fearless Comedy's October show, Masquerade at Bernard's (a Shakespearean Weekend at Bernie's) and a $30 gift certificate to the Uptown Diner!
Game Night Prize: Prize pack from Fantasy Flight Games and a small gift basket from Isabel Street Heat containing hot sauce or seasoned salts to top your snacks for the evening!
Decorating Geek Prize: a framed laser-engraved drawing of the Serenity!
Comics Geek Prize: a starter pack to begin your comics collection that includes popular volume 1 trades and a gift certificate to keep reading!
Electronics Geek Prize: an iPad!
Superhero Geek Prize: Your choice of superhero-themed stained glass art hanging wall panel from Kitsune Art Glass!
In addition to the prizes listed above, we will hold drawings for many, many other door prizes, including books, movies, hot sauces, and a Kindle Fire tablet. You need not be present to win some of them, but others are just for people who stick around!
We hope to see you at the CONvergence 2016 Volunteers Party. It should be a blast! If you have any questions about the 2016 Volunteers Party, please contact the CONvergence Volunteers Department.