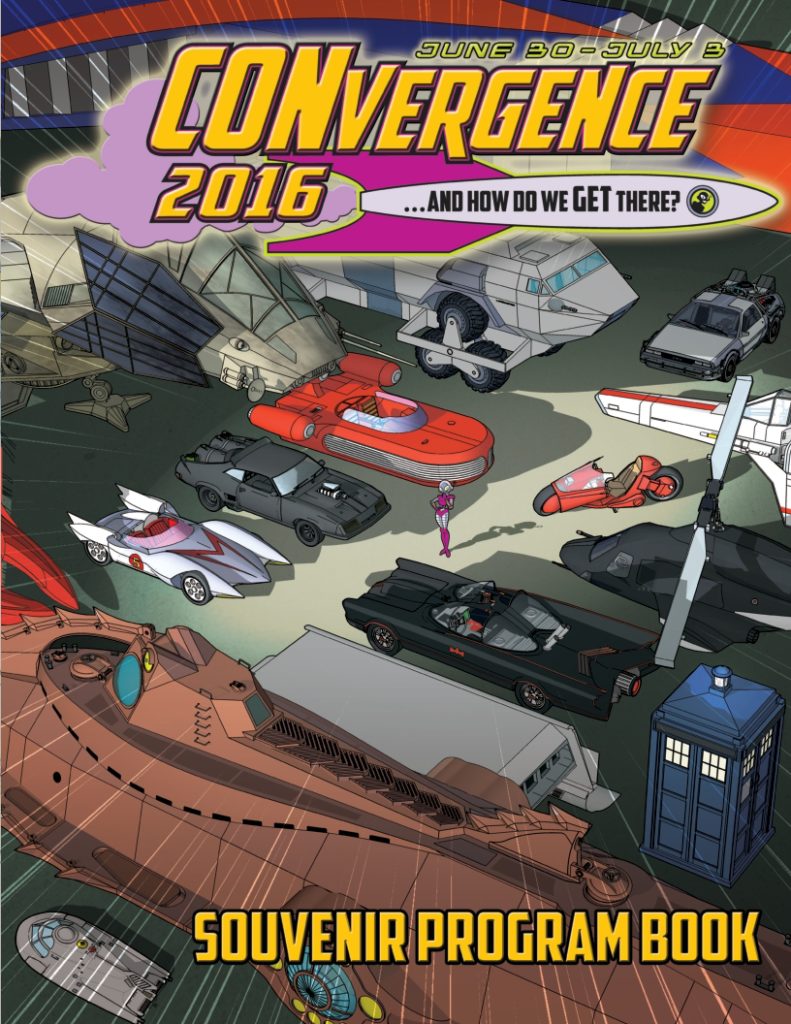 The  CONvergence 2016: …And How Do We GET There? Souvenir Guide is now available for download in a handy PDF format to read on your computer, tablet or mobile phone. Print copies of the guide are available at the convention during Badge Pick-Up.
The Souvenir Guide features Guest of Honor perspectives and schedules, a programming guide, maps, information about sponsors and tons of other useful information for CONvergence 2016!
If you have any questions about the 2016 Souvenir Guide, please contact CONvergence publications. (You may not get a reply until after the convention.)
 Programming Schedule PDF
You can download a PDF copy of the CONvergence 2016 Programming Schedule to print out or read on your tablet or mobile device. You may also be interested in the CVG2016 mobile app!
And, of course, the schedule is also available online.
 Programming Schedule GRID
You can download a large print PDF copy of the CONvergence 2016 Programming Schedule grid.
Restaurant Guide
Check out our CONvergence 2016 Restaurant Guide for dining options during CONvergence 2016!
There are many options available, with special notes for vegetarian, gluten-free, delivery and even exclusive discounts offered to CONvergence members!
Family-Friendly Guide
Heading to the convention with your kids? There are many of fun and entertaining activities at CONvergence 2016 that your whole family can enjoy. From movies to games, parties, panels, crafts and science, we have something fun for members of all ages!
Download or print this CONvergence 2016 Family Guide for family-friendly activities and parties at CONvergence 2016!
(While the rooms and times are as accurate as we can be, please note that some times and locations may be subject to change.)
More to Review…
As you embark upon your CONvergence 2016 journey, you may also want to review some of the following.
Additionally, the hours of operation for free services and activities at the convention can easily be found by navigating the "At The Con" section of our website! Just give it a try!