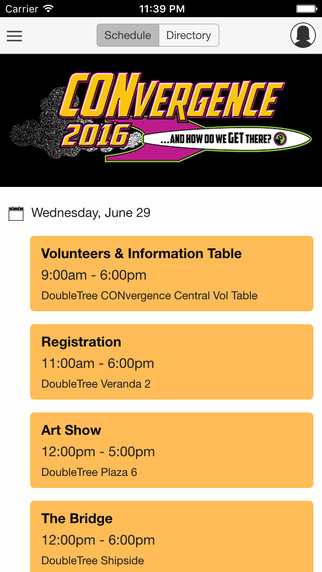 The CONvergence 2016 schedule is now beaming your way in its entirety! You can view the schedule on your computer, mobile phone, or tablet by simply visiting schedule.convergence-con.org or navigating there from the Schedule page.
Make an account, connect with your CONvergence friends, and start planning all the cool things you are going to do at the convention before you even arrive at the hotels!
Mobile App
Keeping track of your CONvergence schedule during the convention is still easier than ever with the CVG 2016 mobile schedule app for both iOS and Android!
Download the App:
The app is free to download and use. If your mobile device is something other than iOS or Android, you can still access the CONvergence 2016 schedule on your mobile device by navigating to schedule.convergence-con.org in your browser app.
If you have any questions about the CVG 2016 mobile app or the CONvergence 2016 schedule, please contact CONvergence Programming.
Cinema Rex Schedule
Due to the license throttling a cavalcade of fine films our way at CONvergence 2016, Cinema Rex will not be listing their movie schedule online this year.
The Cinema Rex schedule will of course be in the printed CONvergence Programming Guide, Grid, and posted on Cinema Rex fliers around the hotel. You can also, as always, just make a pit stop at the DoubleTree by Hilton's Plaza 4 at any time during the convention to see what's playing for the day!
If you use the online schedule or CVG 2016 app, you'll notice that there are time blocks for Cinema Rex movies that do not list the movie name or description. This way, after you see the line up of exciting transportation-themed films and events slated for your viewing pleasure, you can still use the online schedule or app to add Cinema Rex to your convention itinerary.