Did you volunteer for at least 1 hour towards or during CONvergence 2015? If so…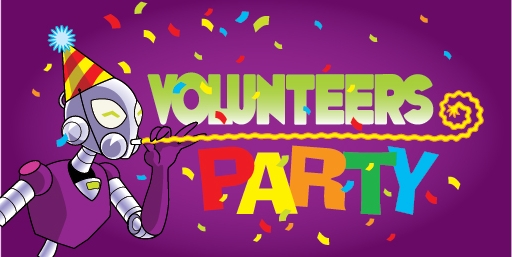 You are invited The CONvergence 2015 Volunteers Party!
When: Saturday, July 25, 2015 at 7:00pm until 11:00pm
Where: DoubleTree by Hilton Bloomington
Why: Because it's fun to party with CONvergence volunteers, of course!
Snacks and beverages will be provided for all volunteers, and the hotel will have a cash bar set up. The pool and hot tub will be open for us to enjoy and we will have a changing room available. Bring your swimsuit, bring a game to play, bring CONvergence stories to share, and most importantly, bring yourself!
Volunteer Perks
Volunteer T-Shirts and other Volunteer Perks will also be available during the party!
If you forgot to turn in your green volunteer card at CONvergence 2015, you can either bring it to the party before 9:00pm or scan it and email the file to [email protected].
Prize Drawings
CONvergence members with 10 or more volunteer hours logged are eligible to enter a prize drawing for one of the following awesome prizes! Winners will be drawn during the party and prizes may be picked up until 9:00pm.
Star Trek Phaser Replica Remote Control
Apple iPad mini 16GB Wi-Fi – Space Gray
Lego Mindstorms EV3
Neil Gaiman's Sandman 10 Volume Slipcase set(paperback)
Saber Forge Custom Lightsaber Arbiter Warrior Edition – Green LED
2 Memberships to JOFCon Minneapolis 2015 – Friday, October 9th – Sunday October 11th 2015
If you have any questions about the 2015 Volunteers Party, please contact the CONvergence Volunteers Department.