CONvergence 2015: DoublePlusGood is officially one month away. It's time to ramp up your con prep, make your checklists, and check out all the great ways you can get involved!

Online Schedule is Available
The CONvergence 2015 online schedule is available! Please note that it is not yet finalized and will continue to be added to, updated, and tweaked in the coming weeks. But don't let that stop you from starting to plan your schedule!
The CONvergence 2015 mobile app should be available in the second half of June.
Masquerade Sign-Up Open
Are you a costumer? You might be interested to know that sign-ups are now open for the CONvergence 2015 Masquerade and the Art of the Dress Costume and Corture Show! All sign-ups are handled online, so go check it out!
Whether you're wearing a costume in a show or not, you might also be interested in checking out these helpful tips for costuming at CONvergence!
Volunteer Recruitment Session
The CONvergence Convention Committee (ConCom) would once again like to invite you to a CONvergence volunteer recruitment event this weekend. Meet representatives from a variety of CONvergence departments and find out how you can help!
When: Sunday, June 7, 2015 at 2:00pm
Where: DoubleTree by Hilton Bloomington Plaza 1
Address: 7800 Normandale Blvd, Bloomington, MN 55439
This recruitment session is specifically intended for anyone interested in year-round volunteering, possibly including joining the CONvergence ConCom.
Can't Make it to the Recruitment Session?
There are also several Info & Training sessions for CONvergence Ops volunteers coming up! Or check out our volunteer positions page for a listing of different ways you can volunteer for CONvergence, then contact the Volunteers Department to tell us how you'd like to help!
Host a Game for CONvergence Gaming
CONvergence Gaming is seeking fun-loving, knowledgeable individuals to host gaming events in our 22nd floor Gaming Space! If you'd like to run one or more games on the 22nd floor for this year's convention, please contact CONvergence Gaming as soon as possible with the following information:
Type of game/event (board, card, RPG, etc.)
The title of the Game/Event.
A description of the game/event (include both a description up to 254 characters for the schedule and a longer description to help Gaming staff understand your proposal.)
Game System (Pathfinder, D&D 5, Call of Cthulu, etc.)
Expected approximate duration of the game/event.
Expected player experience level.
Appropriate ages.
Day & time preferences.
Please note that the CONvergence 2015 gaming schedule is filling up fast, so it's first-come, first-served for available times and table space. The deadline to propose a gaming event for CONvergence 2015 is June 20, 2015. Anything after that will be considered a pick-up game for scheduling purposes. You can find more information about hosting a game on the Host a Game page.
Attention Filmmakers!
Submissions are open for the 2015 Midwest Sci-Fi Short Film Festival! You do not need to attend or be a member of CONvergence to submit your film for consideration, and the film festival is now accepting submissions from Ontario & Manitoba Canada! So spread the word and tell your friends!
All 2015 Midwest Sci-Fi Short Film Festival submissions must be received by June 15, 2015. Click here for more information!
Be Seen on CVG-TV
CVG-TV, CONvergence's closed-circuit television channel, is also accepting submissions to air during the convention! CVG-TV submissions may include:
Advertisements for CONvergence parties, performances, panels, vendors in the Dealers Room, artists in Artist Show, or ads from our Community Partners.
Public Service Announcements relevant to the CONvergence community.
Short Films produced by members and/or supporters of the CONvergence community.
Feature Films produced by members and/or supporters of the CONvergence community.
Music Videos produced by members and/or supporters of the CONvergence community.
Find more information on submitting to CVG-TV on the CVG-TV page. All video submissions to CVG-TV must be made by June 13, 2015.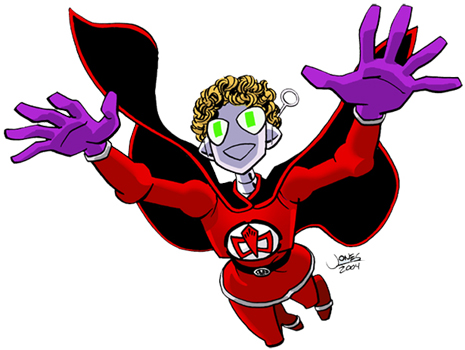 Hotel Guarantees
Did you remember to guarantee your hotel reservation with a credit card? If you're staying at the DoubleTree by Hilton, you've only got until June 15, 2015 to do so!
Ordering Ribbons?
Just a friendly reminder: time is running out to order badge ribbons for CONvergence 2015. (Not sure what badge ribbons are? Check out the Ribbons page for more information!)