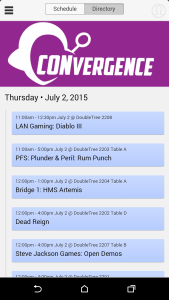 Keeping track of your CONvergence schedule during the convention is still easier than ever with the CONvergence 2015 mobile schedule app for both iOS and Android!
Download the App:
The app is free to download and use. If you have any questions about the CONvergence 2015 mobile app, please contact CONvergence Programming.
The CONvergence 2015 schedule is also available online via the internet browser on your computer, mobile phone or tablet. It can be accessed directly at schedule.convergence-con.org or navigated to from the Schedule page of the CONvergence website.
Cinema Rex Schedule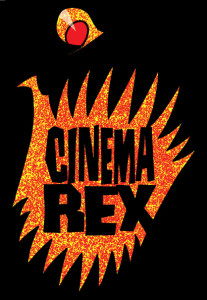 Due to the constantly shifting landscape of movie rights, Cinema Rex will not be listing their movie schedule online this year. The Cinema Rex schedule will of course be in the printed CONvergence Programming Guide, Grid, and posted on Cinema Rex fliers around the hotel. You can also, as always, just come on down to Plaza 4 at any time during the convention to see what's playing for the day!
If you use the online schedule or CONvergence app, you'll notice that there are time blocks for Cinema Rex movies that do not list the movie name or description. This way, after you see the line up of truly awesome dystopian films and events slated for your viewing pleasure, you can still use the online schedule or app to plan your trips to Cinema Rex throughout the convention.
Erm… we mean, the schedule has never been available online. And we've always been at war with Eastasia.